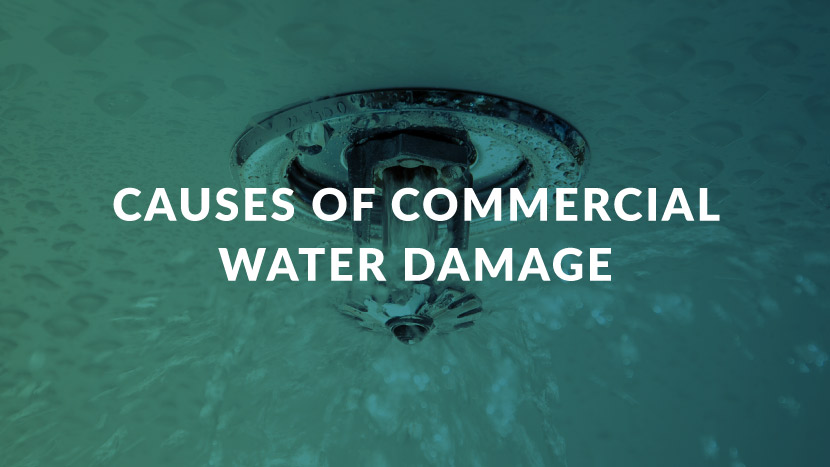 The Top 5 Causes of Commercial Water Damage
Water damage in the workplace isn't just an inconvenience – it can be dangerous for months after the damage occurs. It's crucial to act quickly to remediate commercial water damage and prevent expensive damages by keeping an eye on vulnerable spots in your business. There are several common causes of commercial water damage, and it's important that you know how to spot them and what to do to fix them if there's a problem.
At CLEAR Restoration in Baton Rouge, our water damage restoration experts know how commercial water damage can impact your business. That's why we're available to mitigate your commercial water damage any time of the day or night. Call 225-245-3575 for emergency services.
Damaged or Broken Pipes Is a Top Cause Commercial Water Damage
One of the leading causes of commercial water damage is broken or damaged water pipes. Several conditions can damage pipes in your building, causing them to burst. While freezing temperatures are rare in Louisiana, they can change the pressure in your pipes, causing them to bulge, crack, or burst. They can also be corroded over time or damaged by human error.
You can spot commercial water damage caused by damaged pipes by watching out for water stains on your building's walls, ceilings, or floors. If you see water stains, notice a mildew-like smell, or see cracked or loose tiles, you should call a professional to find and mitigate the problem. Any water-damaged materials will have to be assessed and either restored or removed.
Sprinkler System Leaks Cause Water Damage
Another cause of commercial water damage revolves around your sprinkler system. A sprinkler system can be damaged by extreme temperatures, corrosion, and mechanical damage. If your indoor sprinkler system is acting up, it can lead to leaks and water damage.
Like damaged or broken pipes, you should look out for wet walls, a musty smell, or standing water inside your building. You may also notice ceiling tiles that are brown and discolored; this also indicates a problem with your sprinkler system. To avoid water damage caused by broken sprinkler systems, get a professional to inspect your sprinkler system often for potential problems.
Roof Damage is a Top Cause of Commercial Water Damage
Louisiana residents are no strangers to heavy wind and rain, two main causes of roof damage. When your roof is missing tiles, water may leak into the building, causing commercial water damage. This can lead to structural damage, ruin items inside your building, and mold issues. Make sure to regularly check your roof for signs of damage and provide maintenance as needed.
If your roof maintains damage after a storm, it is advised to immediately contact CLEAR Restoration for water damage restoration. Mold can grow in as little as 24 hours. Immediate inspection and water damage remediation will cost far less than water damage restoration paired with mold remediation. Not to mention the additional time it will take and the displacement of all your employees during remediation. If roof damages cause commercial water damage, contact us immediately.
Damaged HVAC System Can Cause Commercial Water Damage
It's important to maintain your commercial HVAC system and keep it clean to keep your building free from commercial water damage. With time, HVAC systems can wear out or get damaged, leading to water leakage. To avoid this cause of commercial water damage, get a professional to clean and maintain your HVAC systems on a regular basis.
Faulty or Broken Windows Cause Water Damage
Another common cause of commercial water damage is damaged windows or window seals. Damaged windows or unsealed windows let water get into the building. If left unresolved, the excess moisture will lead to mold, damaged building materials, and more water damage. Make sure that your commercial building's windows are sealed and in working condition. To go one step further, ensure that caulking is reapplied every few years to avoid commercial water damage.
If you suspect that your business has fallen victim to one of these causes of commercial water damage, don't hesitate to call CLEAR Restoration in Baton Rouge at 225-245-3575. Our professional team of water damage experts can quickly and safely fix all commercial water damage and perform mold remediation if necessary. Keep your business going even after water damage when you contact CLEAR Restoration today.