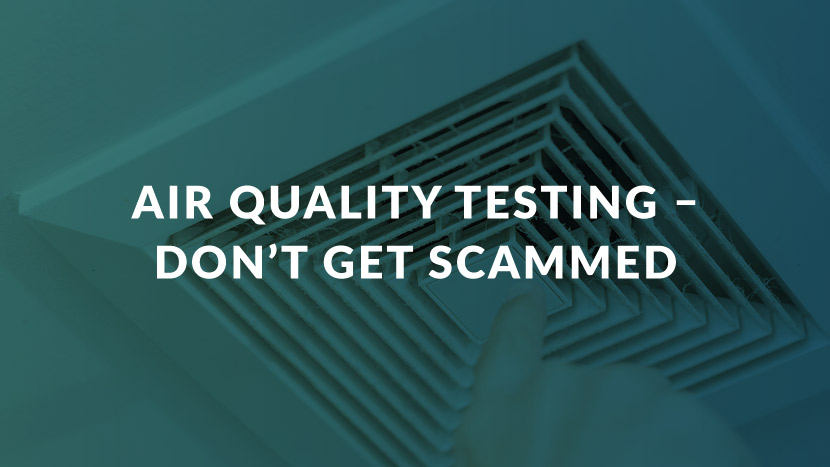 Know the Difference Between a Quality Air Testing Company and a Scam
Does your home smell musty like your air is stale and damp? If you've tried everything to get rid of the smell and nothing has helped, then you might be due for an air quality test. An air quality test from the experts can help you identify whether or not that musty smell is being caused by mold in your home. This simple test can help you protect your health and let you know if you need to take action against a surplus of mold spores.
What is Air Quality Testing, and Why is it Important?
Air quality testing is the process of examining a sample of indoor air or surfaces to determine if mold or other harmful elements are present. It is used before and after mold remediation to determine if the service is needed and if it was successful.
Air quality testing informs homeowners of the condition of their home's air and whether or not the house is safe for residence. A test can help you avoid long-term exposure to mold, which can trigger different health problems. From allergies symptoms to respiratory problems and disorientation from mold illness, mold can affect your health severely. If you are experiencing any illness symptoms, it is better to be safe and get your air tested.

Quality Air Test Samples are Important to Avoid Scams
It's important to note that if you're going to have an air quality test performed for your home, you need to be sure the company you choose is trustworthy. Companies that don't use a third-party lab to test your air samples could be scamming you to sell more services.
In fact, it's against the law in Louisiana for the same company to perform a mold assessment and remediation for the sole purpose of protecting the customer. A company that uses a third-party lab, however, can't lie to you about the results of the sample. The third-party testing helps ensure you are not sold on additional, unneeded services.
Your Trusted Air Quality Testing Company in Baton Rouge
As a Baton Rouge-based company, CLEAR Restoration focuses on being a trustworthy company for our neighbors throughout Baton Rouge. We always use a third-party lab to perform the mold tests so our clients know that the mold and musty smell has been successfully removed from their home.
When you need a mold air test performed, trust the experts at CLEAR Restoration to use a third-party tester. Whether you just purchased a new home or have been experiencing concerning symptoms for a while, we'll help you identify any possible risks. From there, we'll start a mold remediation plan for your safety and protection. Call us in Baton Rouge today and clear the air.