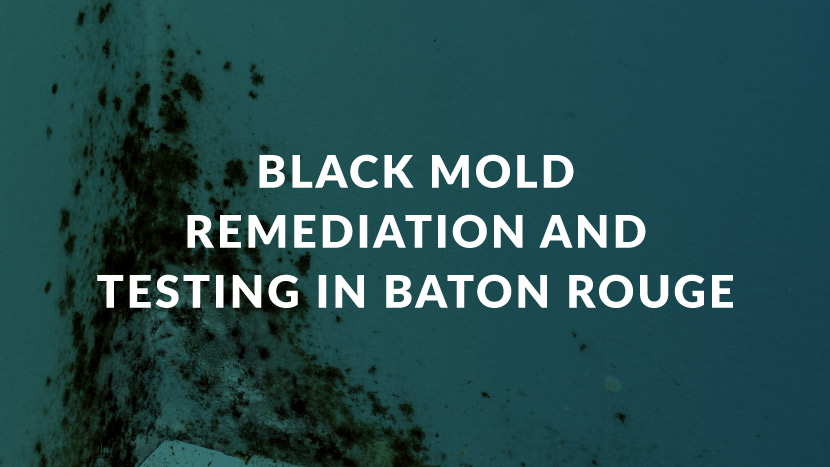 Black Mold Remediation from the Professionals in Baton Rouge Allow You to Breathe Easy
Black mold is dangerous to humans and can cause health problems ranging from wheezing to lung infections. If you have black mold in your Baton Rouge home, it's best to leave it to the professionals at CLEAR Restoration. With mold testing from a third-party and a complete removal of the dangerous fungus, you can sleep soundly again.
Black Mold Should be Remediated by Professionals – The Dangers to Your Health
According to the EPA (United States Environmental Protection Agency), black mold, or Stachybotrys chartarum, is a generic term for mold that releases mycotoxins. The mycotoxins are what can cause dangerous health problems including headaches, difficulty breathing, and allergic reactions among other symptoms. The EPA also states, "Inhaling or touching mold or mold spores may cause allergic reactions in sensitive individuals." For homeowners everywhere, CLEAR Restoration recommends you avoid touching mold, dead or alive, as either can cause you health problems.
Instead, call the black mold remediation professionals at CLEAR Restoration in Baton Rouge. At CLEAR Restoration, we safely remove toxic black mold or any type of mold. As specialists, we are trained and licensed in mold remediation and can remove toxic black mold from your home completely so you can breathe easy.

Black Mold Assessment and Remediation from Separate Organizations for Your Protection
Did you know that it's against the law in Louisiana for a black mold assessment to be performed by the same people who do the black mold remediation? They are two different services that require different training and need to be done by different companies for the consumers protection against false findings.
At CLEAR Restoration, when you think you have black mold in your home, we refer to a third-party assessor and lab tester for the pre- and post-remediation mold inspections. Referring to the third party ensures you that you actually have black mold in your home without any tampering from us.
The post-remediation testing by a third party ensures that we fully removed the black mold from your home as well. This double checking is for your safety. CLEAR Restoration puts you first and only performs black mold remediation when you need it.
Black Mold Remediation by the Professionals as CLEAR Restoration in Baton Rouge
Don't let your home rot or your family suffer from the toxic effects of black mold spores. Call CLEAR Restoration today. As a black mold remediation company in Baton Rouge, we remove mold quickly so you don't have to breathe in the toxic spores for long. We even have 24/7 emergency services for big problems that can't wait. Call the black mold specialists today at 225-245-3575 and say goodbye to toxic black mold.