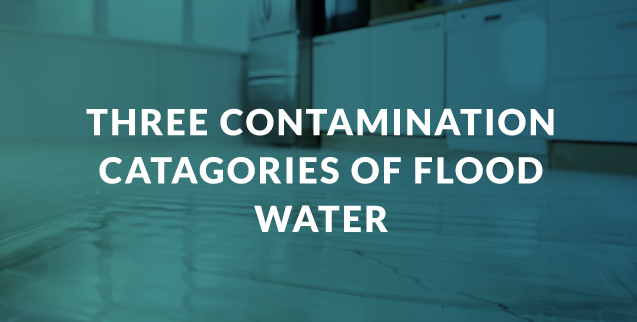 Know the Categories of Contaminated Water and Stay Safe and Healthy
If you compare the water in the river to the bottled water you just bought from the store, it's not hard to tell that there are different levels of water contamination. While some water is generally safe to interact with, water from other sources can transfer dangerous viruses and bacteria.
When it comes to your home or business being affected by water damage, knowing which category of water contamination you're dealing with can help you remain safe. The IICRC categorizes water contamination into three categories to help people understand the risks of contaminated water and advise on professional water restoration.
Contaminated Water Category #1
Category one is the safest category of water contamination. While no one wants water damage in their home or business at all, if you do have water damage, you would want it to be within this category.  Category-one water contains no contamination and it comes from a clean source. Think your tap water from the sink. Category-one water does not contain contaminants and does not pose a risk from contact, inhalation, or consumption.
Contaminated Water Category #2
In this category, water is considered hazardous if you come into contact with or consume it. Water is put into this category when it comes from sources such as overflowing toilets, washing machines, and dishwashers. These sources may have hazardous materials in them such as soap, waste, bacteria and other dangerous chemicals that could cause you harm. While you may think this category is safe because it comes from a semi-clean source like your dishwasher, it could still cause health problems. If you experience category-two flooding in your home or business, calling a professional water remediation company is advised.
Seek out your doctor if you come into contact with any category-two water as well to ensure your health.
Contaminated Water Category #3
Category-three water is hazardous to come into contact with and can cause major health issues. Water in this category is heavily contaminated and can contain pathogens, bacteria, and toxins. River water, water that was blown in by a storm or hurricane, overflowing sewers, and seawater are all considered category-three water. If your house or business floods with category-three water, calling a professional is strongly advised to avoid contact with harmful substances. Professional water damage restoration companies are trained and licensed to safely and thoroughly remove contaminated water from your home or business.
When your home or business experiences water damage, it is best to call in a professional water damage remediation company. Whether it is from a clean source or contaminated source, large amounts of water can be hazardous to your health immediately or in as little as 24 hours with mold growth. Call CLEAR Restoration today for any category of water damage and we will safely remove and clean your home or business.