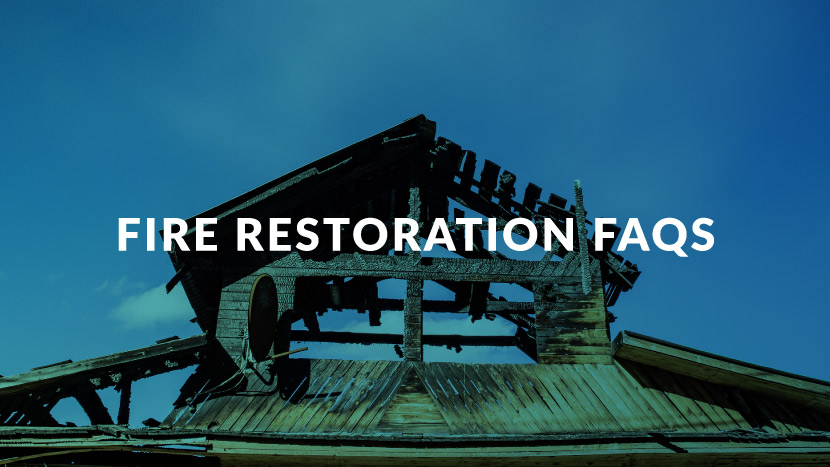 Your Fire Damage Restoration Questions Answered in Our FAQs. What Happens After the Smoke Clears?
Surviving a fire is a difficult, ongoing process that doesn't end when you make it out of your house safely. Once the flames are put out and the soot has settled, it's time to think about repairing your home. CLEAR Restoration wants to inform and help you through this difficult process as best as we can. Here are some answers to frequently asked questions about fire damage restoration from the experts at CLEAR Restoration.
What's the first thing I should do after a fire?
 After the fire is out and everyone gets the medical attention they need, call your insurance company and submit your claim. The damage needs to be evaluated by your insurance company before you can start the process of fire damage restoration.  Make a list of all the items that were lost or damaged in the fire for your insurance company. Also, take lots of pictures of the structure, especially all damaged areas, and all contents – the more pictures, the better. Cooperating with your insurance company is vital to the fire damage restoration process.
If the fire is small, can I clean it myself?
Even small fires can cause major problems. Trying to fix your fire damaged home yourself can be dangerous in more ways than one. It's hazardous to inhale the lingering smoke, soot, and fumes. Also, you could overlook something like damage to the structural integrity of your house or toxic materials from melted building structures. Fire damage professionals have extensive knowledge about fire restoration and access to advanced cleaning solutions and equipment that is vital to restoring the area safely. They know how to restore your home to pre-fire condition as safely and efficiently as possible.
Is it safe to stay in my home during the clean-up process?
It may or may not be safe to remain in your home during the clean-up process. It depends on the extent of the damage and your home's layout. Experienced professionals, like the ones at CLEAR Restoration, will be able to advise you on whether or not the home is habitable. Some small fires might not pose a risk to your family's health, while larger fires can leave lingering fumes, soot, and smoke that is dangerous to inhale.
How long is the clean-up process?
This depends on the extent of the damage, the insurance company's processes, and the efficiency and expertise of your fire damage restoration team. It also depends on whether or not your home has suffered other forms of damage, like mold and water damage, as well. The fire damage restoration process can take anywhere from a few days to several months to complete. A reputable fire restoration company will be able to provide you with an estimate of when the restoration process will be finished. At CLEAR Restoration, we help craft a full restoration plan for your home and execute it thoroughly and efficiently.
Does the water that was used to put out the fire hurt my home?
 If your home is flooded with water after putting out a fire, it could cause detrimental mold growth. Mold isn't always obvious to the naked eye, and it usually isn't your main concern after a damaging fire, but it can be detrimental to your family's health and safety. An expert restoration company will do a mold inspection of your home if water was used to put out the fire. CLEAR Restoration is a reputable restoration company that specializes in mold remediation as well as fire damage restoration.
How will I protect my home from theft?
In the event of damaged doors and windows that leave your home vulnerable to thieves, a quality fire restoration company will board up your doors and windows to prevent intruders from ransacking your already damaged home. CLEAR Restoration provides emergency board up services to ensure that your belongings are safely locked inside your home during the fire restoration process.
We want to help alleviate your stress and educate you on the fire damage restoration process. If you're in need of a reputable restoration company with the knowledge, dedication, and equipment to deal with any damage, big or small, call CLEAR Restoration. We'll come to your aid quickly and see what we can do to help you get your life back on track and your home back to its previous condition as soon as possible.