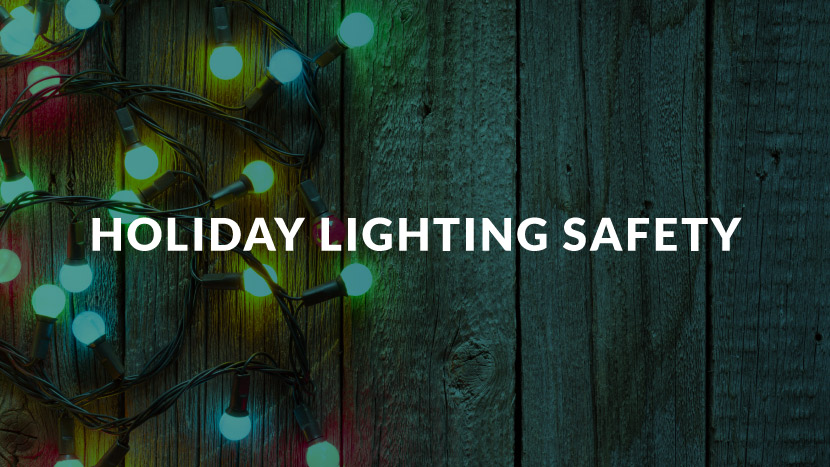 5 Safety Tips for Holiday Lighting Decorating
After everyone has finished their Thanksgiving leftovers, it won't be long until you're in the attic looking for last year's holiday decor. Decorating means stringing up lights, putting up the Christmas tree, and filling the front yard with as many twinkling lights as your home can handle.
With all of the holiday excitement, don't forget that putting up so many lights involves electricity and requires you to take a safe approach. As you and your family begin putting up this year's holiday lighting, follow these five tips to reduce the chances of electrical shock, fire, or injury.
[Related: Have a Merry Holiday Season with Good Holiday Fire Safety]
Inspect Your Lighting Decor
The very first thing you should do before plugging a string of lights into an outlet is to inspect each piece of lighting decor. You should be looking for any exposed or frayed wires, broken bulbs, burn marks, and melted plastic. If you come across anything that might be a holiday lighting safety risk – throw it away.  A broken bulb or frayed wire can lead to an electrical fire or shock. The last thing you want to do during the holiday is to pay for medical bills or fire cleanup that could have been avoided in the first place.
Use the Right Hardware
Remember to use designated indoor and outdoor lights respectively to avoid a fire hazard. Indoor lights don't have special cord protection like outdoor lights. Outdoor lights are designed to handle wet weather conditions. Using indoor lights outside could cause electrical sparks or outages that could ruin your holidays.
Opt for Energy-Efficient Holiday Lighting
If you're looking to purchase new holiday lights this year, take advantage of energy-efficient holiday lighting. They're safer than traditional holiday lighting since they produce virtually no heat. LED holiday lighting diminishes the chances of catching your holiday decorations or home on fire. LED holiday lights also use significantly less energy than older holiday lights, which can lower costs.
Don't Plug in Too Many Lights at Once
Too many lights plugged into an outlet or power strip can cause your circuit to blow. Make sure you're keeping track of how many lights are being plugged in. This is one of the surefire ways that holiday lighting can spark a fire in your home.
[Related: Holiday Hazards: Fire, Mold, Water]
Use Plastic Hooks
When you're installing holiday lighting outside of your home, avoid using metal staples or nails. Metal staples can pierce insulation, leaving it vulnerable to fire hazards. Plastic hooks are a better alternative. They are easy to install and come in a variety of shapes and sizes.
As you start to hang your holiday lights this year, don't forget to keep safety in mind. By taking the necessary precautions, you can prevent harm to your home and family. If holiday light decorating sparks a fire in your home, our team of fire damage experts is one phone call away. For more on how to protect your home from holiday fire hazards, contact CLEAR Restoration at 225-245-3575.