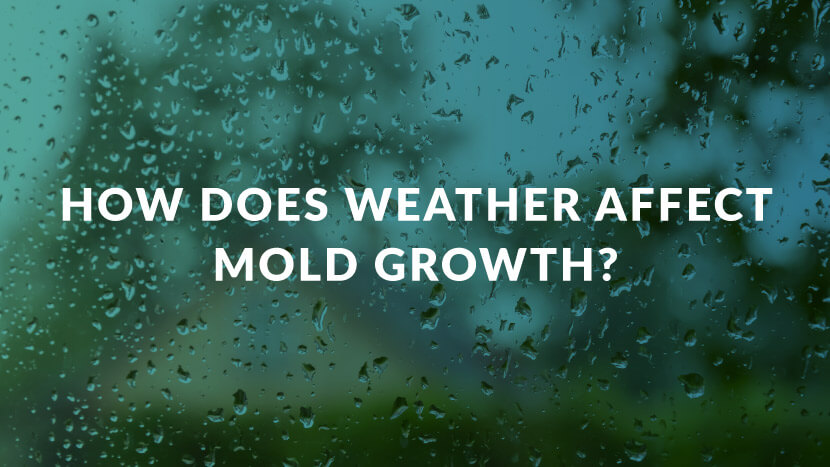 How Does the Weather Affect Mold Growth?
While mold growth is a common occurrence for many homeowners in Louisiana and around the country, there are certain times of the year when there's a higher chance for the weather to affect mold growth. It's important that homeowners take note of when the mold is growing in their homes. What season the mold grows in can make a difference in where mold finds the perfect spot in your home and how to prevent it.
You and your home's safety is the #1 priority every day of the year. At any point throughout the year, in rain or shine, you can count on the IICRC-certified contractors at CLEAR Restoration to stop mold from taking a stronghold on your home or business with their mold remediation and removal services.
How Does Weather Affect Mold Growth in Winter?
Winter brings cold, chilly weather that makes everyone in the home want to snuggle up. What most homeowners don't know is winter weather doesn't stop mold growth. That's right; despite the chills, mold can still grow in your home during the winter.
Many rooms within a home or office building do not get colder than 50 to 65 degrees Fahrenheit, even in winter, and mold can grow in those temperatures. The idea that cold weather will kill all kinds of mold colonies is a myth. Mold will come back and grow once the freezing temperatures go back to normal because the conditions that allowed the mold to grow in that spot in the first place are most likely still there. There are also certain types of molds that do prefer cold weather over warm weather.
Thus, you shouldn't let your guard down and think you have a long break from taking care of the mold.
How Does Spring Weather Affect Mold Growth?
Did you know that spring is the 2nd most likely season when mold is most likely to grow? After the rise in temperatures and melting snow and ice thaw, mold species that prefer warmer weather start affecting spots in the home that provide the ideal environment.
Spring weather can also affect mold in areas with high water tables or where heavy rains are often experienced. When there are heavy rains, there is a risk of flood water entering your home. You'll have a high chance of your items being water damaged and affected by mold. If your home or office has flooded or gotten affected by heavy rain, call CLEAR Restoration to take advantage of their 24/7 emergency services.
[Related: Prevent Mold Growth After A Flood]
How Does Weather Affect Mold Growth in Summer?
Two things are most likely to happen in the summertime: heat and rain, which can lead to higher humidity. Thanks to that, summer is the most likely time you may spot a mold colony growing in your home. In Baton Rouge, where humidity levels can be especially high, many homeowners are likely affected during the summer months.
One common cause for summer weather affecting mold growth is that differing temperatures inside and outside the home can lead to condensation around windows or doors. As a precaution against this, you should regularly check the weather seals, air conditioning drains, and level of airflow from exhaust fans.
The peak of mold growth throughout the year is in the late summer, so keep a close eye on spots where mold is most likely to grow. You should try and prevent mold from growing in areas such as the kitchen or bathroom due to the use of appliances that need water to function.
[Related: 3 Steps to Prevent Mold Growth in Summer]
How Does Fall Weather Affect Mold Growth?
The peak time for the weather to affect mold is from late spring to early autumn, and autumn is the end of the traditional season for mold growth. At this point in the year, most species of mold start beginning to hibernate. Another cause for the growth slowdown is that the humidity levels present in previous seasons start to fall, leading to fewer chances for mold growth.
Without rain or humidity and more cold weather, mold is less likely to grow since most mold colonies' ideal temperature is 70 degrees Fahrenheit. But remember that mold can still grow during the autumn if there are any moist areas.
Mold Grows Year-round
While mold growth can get better or worse depending on the season, there's always the opportunity to have mold growth occur somewhere within your house. Whether the weather is cold or hot, mold will always grow in any moist environment with organic material.
Mold is an airborne fungus that is present everywhere. Thus, there are always mold spores around, looking to find the best environment to grow. To prevent mold growth, you should always look through your home, check whether the ventilation is working, and spot any areas where moisture spots are growing.
No matter the weather in any given time of year, CLEAR Restoration is there to help you with any mold issues you may have. Contact us today for any mold remediation service in Baton Rouge at 225-245-3575.