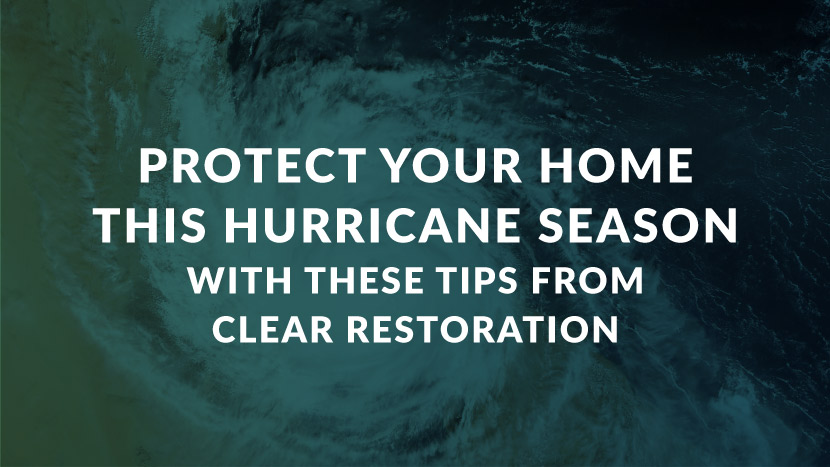 This Hurricane Season, Don't Wait Until Right Before a Storm Strikes to Prepare Your Home.
Hurricanes are destructive forces. They can ruin homes and shatter lives. This year, the National Oceanic and Atmospheric Administration predicts a likely range of 9 to 15 named storms. Of those storms, 4 to 8 could become hurricanes and 2 to 4 could become major hurricanes. Any of these storm systems could target Baton Rouge. Instead of waiting until the threat is imminent, these steps you can take now to protect your home from the damaging winds and rain that comes with a hurricane.
Hurricane Preparation for Your Roof
Your roof is the largest potential opening on your home. Wind and water can do terrible damage if they get through your roof. There are a few things you can do to prepare your roof for a hurricane.
First, you should inspect your roof to make sure all the shingles or tiles are secure and any are cracked or missing shingles or tiles are replaced.
Next, clean your gutter and drainage systems. Hurricanes are capable of producing lots of rain that can cause serious damage. Be sure your gutters and drainage systems are free of debris and can efficiently drain water in the event of a storm.
Finally, consider having your roof inspected for weaknesses and add hurricane straps if you don't already have them. Hurricane straps will reinforce the bond between your walls and roof and can prevent your roof flying off your home during periods of high winds.
Preparing Your Windows Before a Hurricane
Unprotected windows are another danger to your home. If windows are broken by projectiles, the glass shatters and water can easily get into your home. To protect your windows, you can buy and install hurricane shutters over your windows. Hurricane shutters are designed to withstand the force of debris flying through the air traveling hundreds of miles per hour.
If you prefer to make them yourself, you can use plywood to cover your windows. The downside to using plywood, however, is it has to be put up at the last minute. Plywood also blocks light from the windows, so if the power goes out, it will be very dark.
You can also check the seals around your windows. Normal weather, especially Baton Rouge's hot climate, can damage seals over time which allows rain to blow in during a storm. Use a high-quality, urethane-based caulk to prevent water penetration.
Don't Forget Your Doors—Especially Garage Doors
Garage doors are often flimsy and cover a large area, so they are vulnerable to winds. You can opt to replace old garage doors and tracks with one approved for both wind pressure and impact protection. If your garage door fails, winds pose grave problems for the rest of your home. If you don't want to replace your garage door, consider bracing it. Use one brace for single doors and two or more for larger doors.
Sliding glass doors should be treated like windows. Sliding glass doors should be covered with shutters or plywood as these types of doors are more vulnerable than other doors. If your outer doors have windows, the windows should be covered with plywood.
When you inspect your exterior doors, pay attention to the hinges. Any missing screws should be replaced. You can replace existing hinge screws with longer ones to anchor the door to the wall structure. If you have an older door, consider replacing it with a new one that complies with impact codes.
Other Outdoor Hurricane Preparations
Now that your home is prepared, take a look around your house. At the beginning of hurricane season, trim the trees on your property. If you have any weak branches or branches over your home, be sure to cut them down now. If you wait until a storm is imminent to remove branches, they could be picked up by the wind and become dangerous. Once a storm is headed your way, bring any outdoor furniture, potted plants, or other loose objects inside.
If you live in a mobile home, make sure you know how to secure it against high winds. Do not attempt to stay in the mobile home during a storm.
If Water Damage Does Occur, Call CLEAR Restoration
Even if you take all the precautions listed above, if the storm is strong enough, your home could still be damaged in a hurricane. If your home is invaded by flood waters, trust CLEAR Restoration for water damage cleanup and drying. Our main goal is to quickly and safely get you to the point where you can begin planning any required reconstruction, so you can get back to what is most important to you: your home. If water damage occurs this hurricane season, give us a call right away.