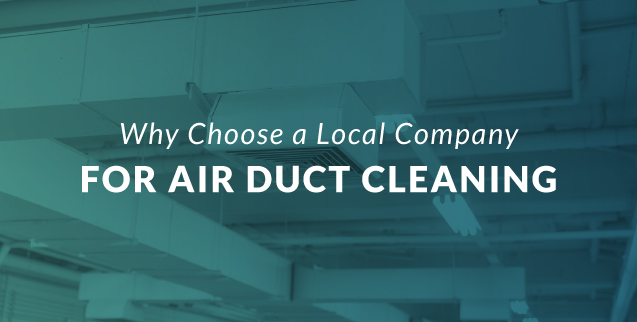 Go Local When Hiring an Air Duct Cleaning Company
Having clean air ducts is beneficial to both the foundation of your home and to your health. An important service such as air duct cleaning requires the right company to get the job done correctly. When you choose a local air duct cleaning company, both you and your community benefits.
When you hire a licensed, local air duct cleaning company, you can expect better results and faster service than when you opt for an outsourced company. That's only one of the many advantages of choosing a local business over a national brand.
Local Company with Local Knowledge
When it comes to Louisiana weather, no one knows how to prepare like a Louisiana native. Local air duct companies are the experts in combating the pollen, mold, and other contaminants known in the Louisiana area.
Baton Rouge is a blend of industrial and agricultural living, making it more difficult to maintain good air quality in our homes. The combination of nitrogen dioxide and ammonia air pollutants from agricultural plants and carbon monoxide emitted from industrial plants result in twice as many air pollutants.
In addition to pollutants, Louisiana's damp soil and warm weather make the Baton Rouge area a breeding ground for mold. Mold spores can easily be pulled into your air ducts through your HVAC systems and spread throughout your home or office building.
Hiring an air duct company based in town means you hire a company that has knowledge of the common contaminants found in the area. With specialized knowledge of the irritants and pollutants, a local company will know the proper way to remove contaminants from, clean, and disinfect your air ducts.
Direct Customer Service
When choosing any service, how a company treats their customers and how satisfied customers are with the service is important. Local businesses care much more about providing a quality service because they are tied to the community and rely on maintaining a good reputation with the people they help.
Local businesses can also more directly assist their customers with any questions or concerns they may have than a large chain. Rather than calling a 1-800 number and listening to a machine list out options before getting in touch with a person, local businesses have customer support agents on staff that are ready to take your call. Your local air duct company is no exception.
In the event of an emergency, you do not have time to be transferred from person to person. You especially would not have time to be placed on hold for hours. When you need your air ducts cleaned right away, you need to be taken care of right away.
Having an air duct company based in Baton Rouge that you can call ensures that you are promptly cared for in a time of need. Like a next-door neighbor, your local air duct company is only minutes away.
Supporting a Local Business
When choosing a local business, you get to know the ins and outs of the company. Wouldn't you want to trust a company on a personal level when it comes to the air quality of your home or office?
Local businesses are a great part of the Baton Rouge community and look to provide the local service that you cannot get anywhere else. Choosing a local air duct cleaning company from your community can not only benefit you but can also support a local business.
Stay local, and give CLEAR Restoration a call for your air duct cleaning needs.