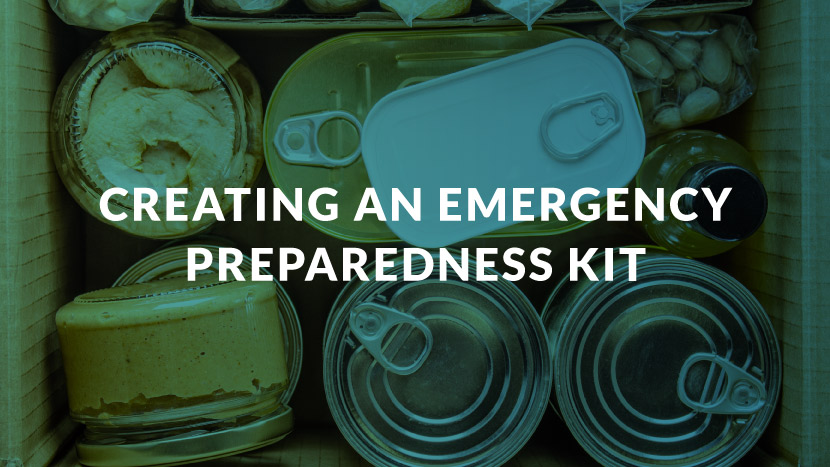 Stay Ready with A Hurricane Emergency Preparedness Kit
For the Gulf Coast region, hurricane season is a trying time. The summer months can mean heavy winds and rains, evacuations, or, in the worst case, destroyed homes. Making an emergency preparedness kit can help ease your mind while you sunbathe or hang out at the pool for when life isn't so sunny.
What to Put in An Emergency Preparedness Kit?
Having an emergency preparedness kit during hurricane season will help you at home during a bad storm or in the case that you and your family need to evacuate. FEMA recommends having these items in your kit:
Water: one gallon per person per day (3-day supply for evacuation, 2-week supply for home)
Food: non-perishable, easy-to-prepare items (3-day supply for evacuation, 2-week supply for home)
Flashlight
Battery-powered or hand-crank radio (NOAA Weather Radio, if possible)
Extra batteries
First aid kit
Medications (7-day supply) and medical items
Multi-purpose tool, like a Swiss Army knife
Sanitation and personal hygiene items
Copies of personal documents (medication list and pertinent medical information, proof of address, deed/lease to home, passports, birth certificates, insurance policies).
Cell phone with charger
Family and emergency contact information
Extra cash (ATMs might be inoperable)
Extra fuel for generator and car
We also recommend having a water & flood damage restoration company researched and their info on hand as part of your emergency preparedness kit. The last thing you want to do when your home or business has been destroyed is debate which company to call. Having an experienced and professional restoration company already picked out makes you one step closer to returning your life back to normal after a hurricane. CLEAR Restoration is an IICRC certified water restoration company and has years of experience serving Louisiana residents affected by flooding and water damage.
Emergency Preparedness for Your Home
If you've lived through just one hurricane season, you know some of the basics for emergency preparedness at home. If a hurricane is expected to make landfall in your area, you should:
Protect your windows

Storm shutters are the best option, but we often see homeowners boarding up windows with plywood. If you choose the plywood method, use ½ inch thick plywood.

Trim back tree branches

Trim branches that are close to your home, cut branches/trees that are dead or weak

Make sure pets/livestock are taken care of

Do not leave pets/livestock at home to fend for themselves. Some shelters may not accept pets, so make sure if you are traveling to a shelter that you can bring them or make other arrangements.

Double-check supplies

Make sure your emergency preparedness kit is stocked and ready to be used. If you are sheltering in place, you may be without running water and electricity for days or weeks.
Emergency Preparedness After the Storm
If you suspect your home has water damage after a storm, call or contact CLEAR Restoration right away. Even if the damage is minor, waiting for restoration or repair could lead to even bigger problems down the road, including mold infestation or structural support issues.
If the damage to your home is substantial, CLEAR Restoration can help. We're experts at restoring flooded homes and treating mold. Our goal for flood damage restoration is to safely and quickly get your home or business back to pre-loss condition, so you can get back to what is most important to you.
Leaving water damage untreated can lead to mold infestations and weaken the structure of your home. Remember, as part of your emergency preparedness kit, you want to have the contact information of a restoration company already on hand.
It's imperative that water damage be properly taken care of by a certified professional before the problem worsens. CLEAR Restoration is certified by the Institute of Inspection Cleaning and Restoration Certification (IICRC) and has staff on call 24/7 ready to help you return your home to normal.
Be Prepared with an Emergency Preparedness Kit
Hurricanes are not something to be taken lightly. Make sure you are ready for any situation with an emergency preparedness kit. And remember, after the storm to call CLEAR Restoration at 225-245-3575 to inspect your home for any mold or water damage. Leaving water damage or mold growth to go untreated can cause bigger issues and health problems later. Get your home back to normal with the experts at CLEAR Restoration and stay safe during this year's hurricane season.