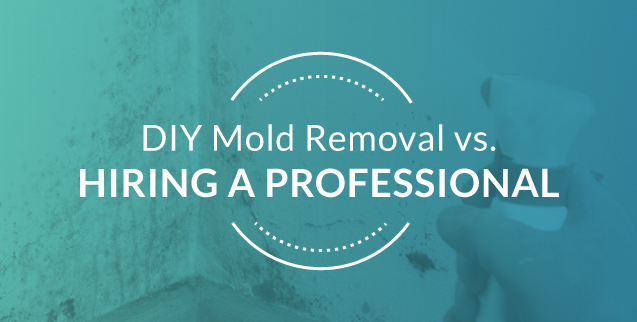 Mold can pop up in your home without warning, but when it does how do you know if you can handle the problem yourself or if it's time to hire a professional?
You'll need to consider a few factors of mold remediation when deciding. When hiring a professional, you get the benefit of having someone with extensive expertise in removing mold safely. If you're the do-it-yourself type, there are many tips and tricks that can help you rid your home of mold.
Whether it's a DIY project or done by a professional, every step of mold remediation should be well thought out to ensure safety and successful removal.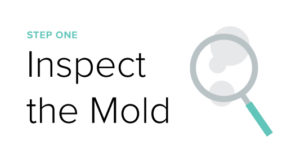 Step 1: Inspect the Mold
When starting the mold removal process, the first step you'll need to complete is the mold inspection. Mold is a fungus that spreads from releasing tiny spores into the air. It grows in places where you find moisture and temperatures between 40 to 100 degrees Fahrenheit.
If it covers a small area on easy-to-clean surfaces such as glass, metal, tile, or ceramic this is probably a DIY project.
Mildew, a type of surface mold that is usually easy to spot, won't damage your home's structure. This doesn't mean it can be ignored. For some people, being around mildew can cause nausea, fatigue, and respiratory and eye irritation and should be addressed to avoid these symptoms.
As mildew usually begins as small, black spots it can sometimes be hard to distinguish from a dirty surface. It is typically found on wet areas such as on dishes or bathtubs. Small amounts of mildew can typically be addressed by the average homeowner, but if you find it on large, hard to clean areas, don't risk contamination and call a trained professional.
Other types of mold can smell bad and cause rot, leading to a crumbling infrastructure. The smell of mold, usually a musty order, is one way to identify that you have a more serious problem. If you smell the odor, check for mold under carpets, floors, and roof sheathing, behind furniture, and in walls.
If you find large amounts of mold or mold on surfaces that are porous you'll need to have it properly inspected, as different molds require different remediation techniques. Hire a professional trained in identifying many types of mold. A professional can tell you what caused the mold problem and how you can address it. This leads to future prevention as well.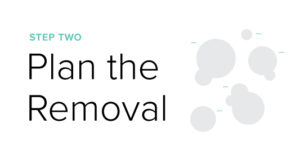 Step 2: Plan the Removal
Mold removal takes both time and the correct equipment. Step two involves planning for the elimination of the mold. If you are removing the mold yourself, this includes planning to take time out of your busy schedule and ensuring that you have the correct equipment.
Mold remediation can take a few hours, a whole day, or even longer depending on the extension of the problem. If you are removing the mold yourself, plan your day accordingly. Make sure the kids are out of the house for their own safety and that you have all the necessary supplies to do the job correctly. A pair of rubber gloves is not enough of a safety precaution.
Items needed:
Old clothes and shoes that can be thrown away after the job is completed
N-95 or P-100 respirators
Gloves
Goggles
Old box fan to help ventilate the room. Remember that it must be thrown away after the project to ensure spores do not repopulate the area.
Garbage bags for mold-infested debris
Anti-mold cleaner and other cleaning supplies.
Hiring a professional mold remediation company can save you both time and money. The simple truth is that they are prepared with the right equipment to safely deal with mold. A licensed company can and will also set aside a whole day to remove your mold while you go on with everyday activities like picking up the kids from school or grocery shopping. They take the tough task of planning for mold removal off your hands.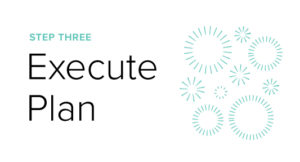 Step 3: Execute Plan
The kids are out of the house, you've got your old clothes on, and you're ready with all the cleaning chemicals needed to tackle your mold problem. The third step is to execute the mold remediation plan.
Small mildew problems found in bathrooms or on dishes can be removed with anti-mold cleaner. Remember to wear protective clothing, goggles, and gloves and follow the instructions on the bottle when removing mold. Only tackle small mildew jobs on your own.
If the mold has reached the drywall, carpet, or wood surfaces, then it has most likely spread widely throughout and deep within your home's infrastructure and will require major reconstruction. Remediating large amounts of mold will require electrical and construction knowledge in order to ensure safety and health.
If your mold problem is beyond spot treatment, it is in your best interest to call a mold remediation company. Without knowing the extent of the mold, DIY removal can be dangerous and lead to many costly mistakes such as disturbing colonies or not removing all spores. Experienced mold remediation companies are better equipped to ensure a seamless removal of mold.
They are licensed, insured, and thorough to guarantee the proper removal of mold. Their insurance covers all parties involved so both the company and the clients are protected. Not only this, but they have the proper equipment and training at their fingertips to ensure that the mold is removed and stays away without cross contamination.
Whether you are removing mold yourself or hiring a professional, follow these steps for a seamless and safe remediation. When deciding if you are going the DIY route or not, consider hiring a professional to guarantee both a safe and accurate removal of mold.