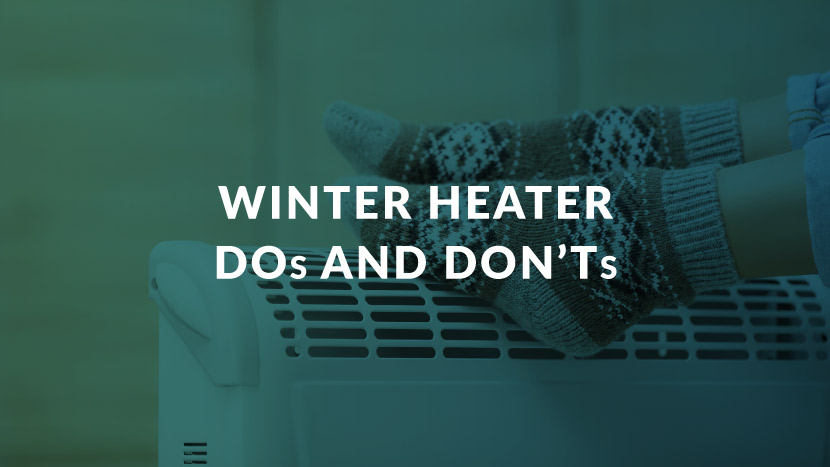 Stay Safe from Heating Equipment Fires with These Space Heater Safety Tips
CLEAR Restoration wants to help keep you and your family safe this winter with some space heater safety tips and standard heater tips. Winter in Louisiana came without a warning, and now we're turning on the heat to keep from shivering. But we must exercise caution with our heating equipment, or the consequences could be worse than freezing.
The National Fire Prevention Association states that heating equipment is the leading cause of house fire deaths. Fire departments responded to an estimated average of 52,050 fires caused by heating equipment each year in 2012-2016. These fires caused an average of 490 deaths, 1,400 injuries, and $1 billion in property damage each year. Officials also stated that half of home heating fires are reported during the months of December, January, and February. Learn the do's and don'ts of heating equipment before you crank up the heater, so you and your family can have a safe and happy winter.
Purchase a Safe Space Heater
There are many different models of space heaters on the market. Shopping for a space heater can be overwhelming when you're not exactly sure what you're looking for. To make sure you're staying safe and getting the best model for you, consider these three factors:
Whether the heater has an automatic shut-off feature
The area of the space you need to heat
Whether you need to heat an indoor or outdoor area
Here's a great space heater safety tip from the experts- get space heater that has an automatic shut off feature. They will automatically shut off when they are knocked over or air flow is obstructed. This can be a life-saving feature that keeps the heater from catching fire. If a heater you're considering purchasing has this feature, it will be evident on the packaging. We don't recommend purchasing space heaters without this feature.
A second space heater safety tip is to consider how large of an area you need to heat. Heaters will state the size of room they are built for on the packaging. For example, you don't need a large, powerful, heavy-duty heater for a small room. That's adding unnecessary fire risk.
A third space heater safety tip is to consider whether you need to heat an indoor or outdoor space. Do not use a fuel heater to heat an indoor space. Fuel heaters are only safe for outdoor use. Safe indoor heating requires an electric heater.
Proper Placement of Space Heaters
Even a high-quality space heater can cause problems if you put it in the wrong place. To make sure your heater is in a safe place that's not to close to any hazards, follow these additional space heater safety tips:
Never put a space heater in a bathroom or next to a sink. This puts you in danger of electrocution, and exposes your heater to potential water damage that could cause it to malfunction later on.
Always remember the three-foot rule: don't place your heater within 3 feet of anything that can burn. This includes bedding, sofas, carpet, curtains, clothes, and papers.
Don't plug your space heater into a power strip because the electrical current is too strong for a power strip, and that could result in a melted, charred power strip and even a fire.
Make sure your heater is in a stable position. Don't place your heater on a chair or on the edge of a table where it could easily topple over.
Practice Safe Habits and Fire Preparedness
A space heater is a powerful piece of machinery and should be treated as such. Make sure to educate everyone in your household about safety precautions regarding the heater. Most people aren't aware of the dangers space heaters can pose.
Never leave a space heater on unattended. Don't leave the heater plugged in while you're sleeping or out of the room. Make sure that every member of the household knows that leaving the heater on unattended and placing flammable items too close to the heater could cause a fire. Also, make sure you are prepared for the worst-case scenario: a fire. Install smoke detectors in your home, and have a fire extinguisher nearby so you are able to detect and put out any fires before they rage out of control.
Stay Smart and Safe this Winter
Remember these do's and don'ts when using a space heater to heat your home this season. Buy a quality heater, position it in a safe place, and practice safe habits and preparedness. We want to help you prevent any fire damage or injury that could result from a space heater before it happens. Stay smart and safe this winter with these preventative tips from us at CLEAR Restoration.