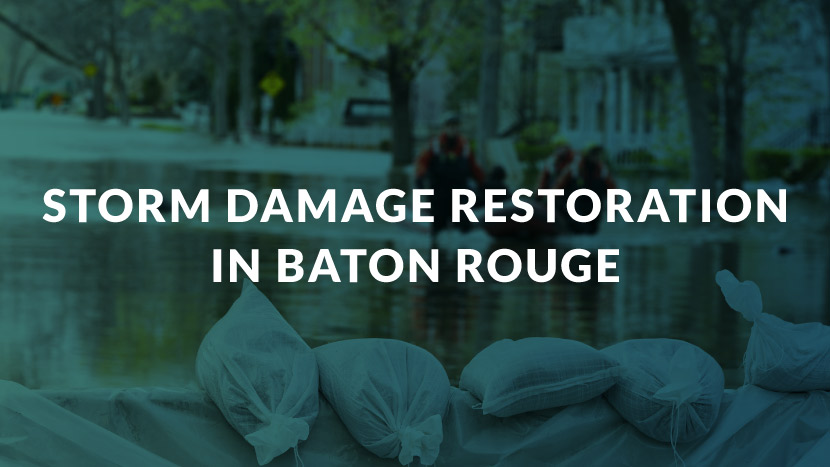 Storm Damage Restoration by a Local Baton Rouge Company
Louisiana just can't seem to catch a break with the weather. From hurricanes to flooding, storms batter businesses and families alike. When you need your home or business restored, trust CLEAR Restoration for storm damage restoration services. With a wide variety of storm damage expertise, we can handle anything the storms dish out. And, as a Baton Rouge-based company, you know you'll be in good hands.
Storm Damage Restoration Services in Baton Rouge
CLEAR Restoration is an IICRC-certified water damage restoration company and licensed by the state of Louisiana as a mold remediation contractor. We adhere to OSHA and EPA guidelines, which means all of our storm damage restoration services meet the highest levels for safety and health. We restore you home or business quickly and professionally. We also fix up any potential issues so you don't face the problem again the next time a storm rolls in. From patching up a hole to sealing up a pipe, as a licensed contractor, we know how to fix your property so it doesn't experience the same issue.
No matter what type of damage the storm caused, we are able to assist in cleanup and restoration. We provide:
Storm Cleanup
Emergency Services
With our array of high-quality services, we can assist you no matter what problem you are dealing with after a storm. Whether it be water and mold issues or fire and smoke problems, we will clean up your property back to its pre-disaster state.
24/7 Emergency Storm Damage Restoration
We know that emergencies need to be dealt with quickly. We offer 24/7 emergency storm damage services. As a local company, we can get to you fast and start restoration without hesitation. This fast service means that there is less damage overall. Less time for mold to grow, soot to stain, and water to contaminate your property. We're there when you need us most and start restoring your property immediately.
CLEAR Restoration is Your Storm Damage Restoration Company
Don't weather the storm by yourself. Call CLEAR Restoration in Baton Rouge for storm damage services today at any time, 24/7. We'll make you and your safety a priority. Experience the difference in quality, safety, service, and results. Call 225-245-3575.