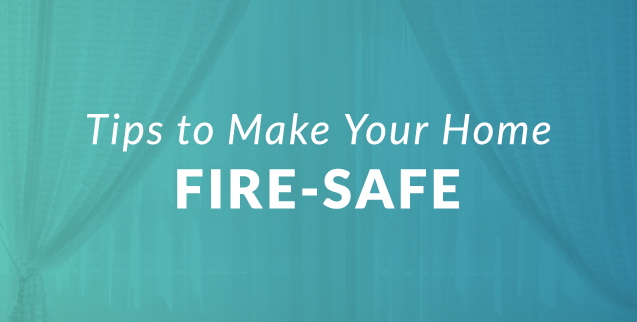 Fireproof Your Home with these Tips and Keep Your Family Safe
No one expects it could happen to them, but in an instant a fire can ravage your home.
According to the National Fire Protection Association, 365,500 households faced house fires in 2015 alone, leading to 7 million dollars in loss. However, with the right precautions, you can help fireproof your home. By taking these simple steps, not only will you be protecting your home, but your family as well.
Check Your Smoke Alarms
Smoke alarms may be seen as a hassle, but they are necessary. Smoke alarms give you an early warning to a fire. Three out of five home fire related deaths have resulted in homes with no smoke alarms or homes where smoke alarms are not working properly. In order to keep your home and family safe, having properly working smoke alarms is essential.
As a ground rule, a smoke alarm should be located on every floor of your house and in every bedroom. In order to make sure your smoke alarms are working properly, be sure to change the batteries in your alarms twice a year and test the alarm once a month.
Cook Safely
Cooking is the number one cause of fires in the United States. To prevent fires, you can adopt safe habits into your cooking routine. Most fires that start in kitchens are related to oil or grease. In order to prevent grease build-up in your kitchen, be sure to clean your stove and the surrounding area frequently. Water cannot extinguish a grease fire, so be sure to store a fire extinguisher in your kitchen at all times.
When cooking, avoid having loose fabrics such as clothing, curtains, or towels near the stove. Combined with a grease fire, a misplaced towel or hanging curtain can lead a fire to spread at a quicker pace.
Be Aware of Your Electrical Equipment
An electrical fire doesn't occur as often as a cooking fire. It only takes a spark of a cord or outlet in the night to have a large electrical fire on your hands. In order to help prevent an electrical fire, look for and replace any cords in your household that may be frayed or cracking. When arranging your furniture, avoid placing rugs or furniture over cords.
They may be easy to overlook, but you should make sure you're aware of the outlets in your home and avoid overloading outlets. Only one high-voltage device, such as a microwave or blow-drier should be permitted per outlet.
Have a Plan
You can never predict everything in life, so in case of a fire, it is important for you and your family to have a plan. Sit with your family and create a simple, easy-to-understand plan in case of fire. Your plan should include two exits for every room in your house, and a safe place to meet once you're safely out of the house. This place could be across the street, at a neighbor's household, or even a telephone pole away from the house.
Additionally, you should be prepared and have a trusted restoration company in mind when making a fire safety plan. At CLEAR Restoration, we will help alleviate your concerns and quickly recover your home, putting your life back in order after a fire. Working with you, we will get your life back on track.