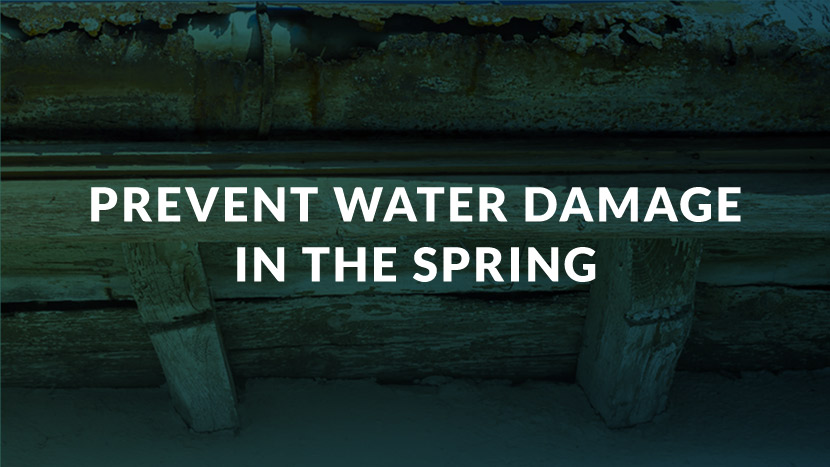 April Showers Brings May Flowers…But Can Also Leave You with Water Damage in the Spring
Spring is officially here, which means the warmer temperatures are finally coming back. Of course, the warm weather doesn't exactly come back overnight—some days are cold, some are hot, and a few days are even a strange mix of both. With all the back and forth going on in the temperatures, rain showers become much more frequent. These frequent downpours, however, can put homes at risk for water damage in the spring season.
Spring is the most common season of the year for water damage, which means that it's important to be prepared. Although you can never be 100 percent protected from water damage caused by natural disasters, there are measures you can take to prevent water buildup. For all the spring showers and storms that will occur this month, be prepared with these tips.
Keep Your Gutters Clean or Risk More than Water Damage this Spring
Your gutters can help prevent water from pooling around your building. However, gutters tend to get clogged with leaves, dirt, pine straw, and other outdoor waste. Remove any debris buildup or clutter that may clog the gutters to help make sure the water can move fluidly away from your home or office. Preventing water from building up around your property will help prevent water damage and a mold infestation.
Look for Any Cracks in the Foundation or Face Flooding
Water does not always leak in from the roof. Rainwater can also come in through the foundation of your home. When those spring showers pour, water can seep through the cracks and weaken the interior structure. It can also create an ideal environment for mold growth and leave a musty odor. Before the heavy showers affect your infrastructure, check the foundation for any cracks and repair them to prevent any water from seeping inside.
Consider a Sump Pump or French Drain for Your Yard to Avoid an Unwanted Pool
Living in Louisiana, you may have noticed we sometimes get more water than our lawns can handle.  The heavy rain makes residents more at risk for large pools of water to form in their yard.  Because the spring weather tends to increase the amount of rain we receive, these pools of standing water become a lot more common. A sump pump or French drain can herd the excess water that lingers around your home or yard and move it elsewhere. That means residential property owners can move standing water somewhere else, even if your property is at the base of a slope or downhill.
Do You Suspect You Might Have Water Damage? Call CLEAR Restoration Right Away
Taking the extra steps to prevent your home and yard from being affected by the spring showers can make a big difference in the costs of restoring your building back to livable conditions. However, if you do suspect that your building has fallen victim to water damage during the spring, the sooner you call, the less damage will occur.
CLEAR Restoration is available 24/7 for any emergency restoration services that Greater Baton Rouge residents may need. For all your spring water damage, give CLEAR Restoration a call at 225-245-3575