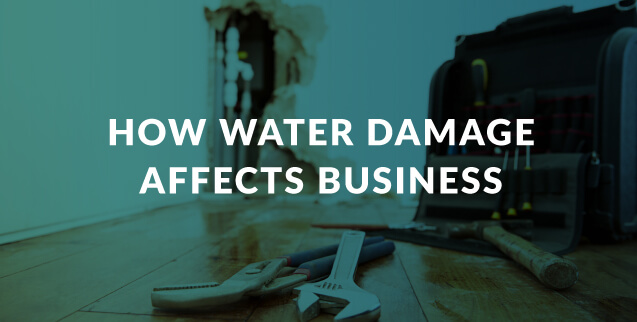 Your Business Can Experience Many Types of Problems When You Have Water Damage
Floods, hurricanes, and plumbing mishaps can all cause major problems for your business. Whether you see the water coming or you come in one morning and are surprised by a horrible scene, a flood in your office building can mean you're not operational for several days or weeks. In most industries, being out of work for a few days can be a huge hit to the finances and moral. When your facility is closed for a few weeks, it often means a company has to shut its doors for good.
It's safe to say, water or flood damage can take a toll on your business in more ways than one.
Property Damage
The obvious problem with water damage is the effect it has on your property. From damaged floors to technology failures, flooding can destroy your property and business assets. Unfortunately, water doesn't spare any items. Just a few inches can be enough to wreak havoc on your entire business and shut you down for several days until restoration services can be completed.
Health Risks
It doesn't take much water to turn your business into a dangerous place. Flooding is a serious matter because of the health risks it brings to you and your employees. Since flood water is the result of too much water in the area and not enough drainage space, water becomes contaminated from sewage, bacteria, and chemicals. This contaminated water is everywhere within your business and poses a high risk to you and your employees. While you may think a few inches isn't enough to stop production, it could end up causing serious health problems for you and your employees.
Emotional Stress
There is no denying the emotional toll that a flood brings upon business owners. There are many concerns that come with water damage including costs, health risks, insurance coverage, and continued revenue. The grief and anger you may feel from experiencing this disaster are nothing to shrug off. Seeking help during this stressful time may be a good idea to prevent more problems down the road.
Business Hardships
On top of having to replace some, if not all of your property, after water damage affects your company, you need to wonder whether business will be affected as well. Even when your insurance covers your losses, others in your area will still need time to recover from their losses, meaning business might slow down or stop altogether. As flooding can affect you financially, it affects others as well which can result in a cut in spending. Stay aware of your situation and remember that business will likely bounce back after everyone recovers from the initial financial burden.
When it comes to water damage affecting your business, it's not just the property damage you need to worry about. Remember to take care of yourself during the stressful time of dealing with water damage in your business, and take the next steps toward recovering. In addition to calling your insurance company and other professionals, be sure to call a water damage restoration company like CLEAR Restoration. We will help you get your business ready for operation again with water damage restoration services.