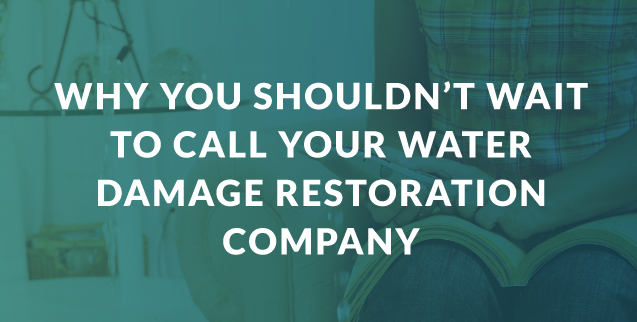 Don't Wait to Call Your Water Damage Restoration Company. Avoid Extra Costs and Repairs.
It's the middle of the night, and you hear a loud commotion. Getting up, you discover a pipe burst in your home. Your walls are soaked and your floors have several inches of water covering them. You turn the water off in your home and go back to bed. After all, you can't do anything about the water at 2 a.m. can you?
It's a common mistake to leave water standing in your home, but it's a disastrous one for your house and your wallet. If you ever experience water damage in your home, it is vital to address it immediately to prevent further damage and avoid the health risks that come with mixing water and organic material.
What Water Damage Can Cost You
Water is a remarkably strong element. It can make sharp, angled pieces of glass round and shiny and coarse stone smooth and flat. Water can also weaken your home's structural beams and saturate and ruin furniture, carpet, wood, and drywall.
Water, if left to sit, can cause your home to start rotting quickly. In fact, mold begins to grow in as little as 24 hours. Letting water sit for an extended period of time will end with major home damage. People who experience water damage in their home often have to replace drywall, flooring, furniture, and sometimes even small possessions. Removing water from the area as fast as possible is key in minimizing damage.
What You Risk
Along with the major costs that come with replacing large parts of your house, you also risk losing valuable time and your health.
While reporting water damage incidents to your insurance company will no doubt take some time, you will also lose time waiting for home repairs to be completed after the claim has been filed. The longer water sits, the more damage it does. Leaving water sit in your home any longer than necessary will result in repairs turning from a few days of worth of work into a few weeks. Living in another place or even without part of your home for a few weeks can be taxing.
You also gamble with your health when you leave water sitting in your house for long periods of time. As mold can grow in as little as 24 hours, you run the risk of having serious health problems from breathing in mold spores. Even staying in a flooded home for a few hours can result in serious injury from unstable structures.
How CLEAR Restoration Helps You
At CLEAR Restoration, we know that emergencies don't wait. When you experience water damage in the afternoon while eating lunch or in the dead of night when you are sleeping, you can count on us to help you. With 24/7 emergency service, our experienced and certified team will come to your home at any time to safely and expertly clean up water.
Call us when you need to at any time at 225.245.3575 and we'll help you with your water damage emergency.