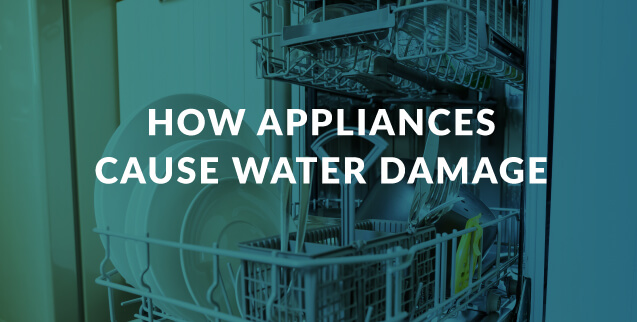 When Appliances Break, Water Damage is Your Biggest Concern
Dishwashers and washing machines make household jobs a breeze. Appliances make our chores easier and give us more time in life to do other activities. The problem is these household appliances also hold a potential for danger. Appliances can cause major water damage when they malfunction or when a connecting pipe breaks.
How Appliances Cause Water Damage
You're getting ready to leave for work and decide to start your laundry so it will be ready to throw in the dryer when you get back. You press the start button on the washing machine and leave the house.  The situation occurs maybe 10 minutes after you leave. The washing machine malfunctions and leaks gallons of water onto your floors.
After soaking into your carpets and baseboards for hours, the damage has already been done. Water may have even soaked all the way through the floors and dripped down to the floor below, causing even more damage. Your carpet could be ruined and the house's structure weakened.
This is the most common cause of appliance water damage as homeowners leave their homes while appliances are running thinking everything will be just fine while they are away. The truth is that appliances are not fool-proof, and if you aren't there to monitor the situation, an appliance can cause major damage to your home.
Water Damage Restoration for Appliance Breakage
Whether your machine broke or a pipe burst, at least one floor of your home, possibly two, will have significant water damage. Fortunately, the water damage from the broken appliance can be easily fixed with a few steps. Start by turning off the water and ensuring appliances are no longer plugged in.
After turning off the water, simply call the professionals and let them take care of your home by removing the excess water, drying the area and your home's assets, and helping you prevent the occurrence from happening again.
A professional water damage restoration company such as CLEAR Restoration should be called as soon as possible. The faster your water damage restoration company can come, the better. The longer the water sits, the more damage it can cause. Your home may also be at risk for growing mold if you let the water from the broken appliance sit too long. Mold can grow in as little as 24 hours so ensuring you call a water damage restoration company that provides 24/7 emergency services is important, especially if the appliance breaks overnight.
When your home suffers from water damage from a broken appliance, take actions immediately to limit the damage. If you catch it early enough, your home may only suffer from minor damage that you can take care of yourself. However, if you have a major leak from a broken appliance, call CLEAR Restoration and let us help you clean up the area to prevent mold growth and further water damage. Dishwashers and washing machines can be a great time saver, just remember to monitor your appliances to prevent water damage.