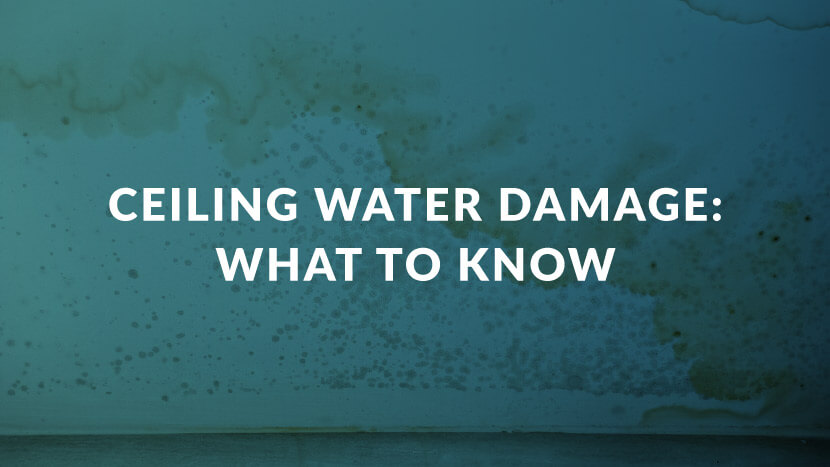 Ceiling Water Damage: What To Know
Looking up and noticing your ceiling is decorated with dark spots or bubbling paint never puts you at ease. Ceiling water damage happens most often with heavy rainfall, especially when tropical storms or hurricanes are involved. It's important to know how to spot ceiling water damage, as well as what causes it, and what you can do about it.
If you notice ceiling water damage, don't hesitate to have a professional water damage restoration and mold abatement company asses your home. Water damage can lead to mold that devastates your health as well as your home's structure. If you suspect your home has mold due to ceiling water damage, don't hesitate to call CLEAR Restoration.
Risks Involved with Water Damaged Ceilings
While water spots on your ceiling can be unsightly, what's happening on the other side of the ceiling can often be even more frightening.  From foul smelling odors to dangerous mold growth, ceiling water damage can wreak havoc on the aesthetic of your home, as well as the structure.
The climate of a typical attic is primed for rapid mold growth, which can cause health issues as well as damage the structure of your home. To prevent dangerous mold growth, we recommend having your attic inspected for mold if you notice ceiling water damage.
[Related: Why You Shouldn't Wait to Call for Water Restoration]
What A Water Damaged Ceiling Looks Like
It is relatively easy to identify ceiling water damage. You should look out for:
Yellow, copper, or brown spots
Mold growth
Peeling, bubbling, or cracking paint
Sagging ceiling panels
Bubbling or bulging drywall near the ceiling
If you notice any of these telltale signs of water damage on your ceiling, you should look for the source of the water and take steps to fix it immediately. If you believe there may be mold growth, contact CLEAR Restoration immediately for expert and reliable mold abatement.
[Related: Why and How To Dry Water-Damaged Walls]
Causes Of Ceiling Water Damage
Ceiling water damage is usually a sign that there's a bigger problem affecting your home. Noticing the water damage on the ceiling is the easy part. It's finding the source of water that's really difficult. Common causes of ceiling water damage are:
Leaking/burst pipes
Overflowing toilet/bathtub/sink on an upper floor
Leaking roof
Leaking roofs are more prevalent after tropical storms or hurricane-force winds, so if you're in an area affected by storms frequently, it's recommended to have your roof inspected as soon as possible.
Ceiling Water Damage Restoration
Whether the ceiling water damage is in your home or office, it should be dealt with as quickly as possible. Calling a certified water damage restoration company ensures that the damage is properly repaired and no further secondary damage, like mold growth, occurs. For your water damage restoration needs in Louisiana, call CLEAR Restoration today at 225-245-3575.