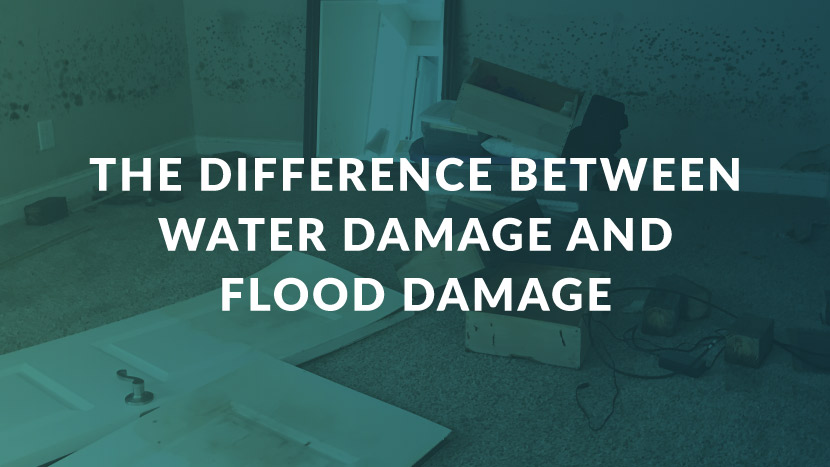 Flood vs. Water Damage: What is the Difference?
Flood and water damage can disrupt your home life as unwanted water ruins the walls, floors, and belongings. However, before making repairs, it is important for homeowners to understand the differences between flood vs. water damage and to know how their insurance coverage can help in either scenario. It is also important to call a trusted and reliable water restoration company as soon as possible to fix the damage and prevent any health risks that flood and water damage can present.
Flood Damage
Typically, flood damage occurs when there is water in your home because of a flooding event. This could be due to a natural disaster, like a hurricane, or heavy rainfall in a short time, like a flash flood. If rainwater from a severe storm starts making its way into your living room, for example, then that would be flood damage.
Flooding mainly happens if there isn't proper water runoff around your home or if a nearby rain or storm control basin overflows. Homeowners should not attempt to repair the damage themselves or stand in flood water since doing so may pose serious health risks. Flood water contains harmful bacteria, chemicals, and debris, which is why you should leave the repairs to the professionals. If you live in an area prone to flooding, it is best to know which water and flood damage restoration company is nearby to assist you after a significant flooding event.
[Related: Three Contamination Categories of Flood Water]
Water Damage
When comparing flood vs. water damage, you must consider where the damage originated. Water damage usually arises from plumbing issues such as a burst pipe, toilet backup, a flooded air conditioning unit, or a refrigerator leak.
However, water damage can also occur from heavy rainfall and storms. If the storm is severe enough to damage your roof and cause rainwater to leak into your home, it would be classified as water damage, not flood damage. Remember to assess the source of the damage when determining if you have experienced flood vs. water damage.
Another significant difference between flood vs. water damage is how to deal with the cleanup. Unlike flood damage, it is usually safe to mitigate damage before calling a water damage restoration company by soaking up excess water or shutting off clean water sources.
No matter how severe the damage is or whether you are dealing with flood vs. water damage, it is best to call a water damage restoration company as soon as you notice the issue. If left untreated, the water can saturate the walls and weaken the structure of your home. The humidity of the water can also lead to mold growth in and around your walls, which can cause health issues if ignored.
[Related: Top Five Causes of Water Damage in Your Home]
Flood vs. Water Damage: What Does Insurance Cover?
Most home insurance policies will cover water damage as insurance companies understand that it is a common issue most homeowners will face. However, not every problem related to water damage is covered by these policies. Coverage will depend on the differences between flood vs. water damage, such as the water source and how much damage was inflicted in your home.
Homeowners insurance typically covers water damage

Generally, most homeowners policies will routinely cover water damage if the source comes from inside your home, such as a burst pipe. However, the homeowner's policy will not provide coverage if maintenance issues were neglected. Nor will it cover the cost to repair or replace the source of water damage, such as an overflowed washing machine, although it typically covers the costs to repair your floors. Remember to carefully review your insurance policies when comparing flood vs. water damage to know what will and will not be covered when disaster strikes your home.

Flood insurance is typically sold separately

If water damage resulted from water outside your home or a natural disaster, it will most likely not be covered by your standard policy. A homeowner should have separate flood insurance coverage, especially if they live in a flood zone.
[Related: Why You Shouldn't Wait to Call for Water Restoration]
Health Risks from Leaving Flood or Water Damage Unrepaired
Whether you are dealing with flood vs. water damage, it is critical to attend to any damage as soon as possible. If left untreated, flood and water damage can be detrimental to your health. Water from a flood or a burst pipe can contain dirt and toxins and quickly develop harmful bacteria.
Mold can also start to develop if flood or water damage is left untreated. If mold is inhaled, it can cause upper respiratory problems, such as difficulty breathing, coughing, stuffy nose, wheezing, and other symptoms. It can also cause severe lung infection, and those with compromised immune systems are at high risk.
It is best to treat flood and water damage right away to prevent any risks to your home and health. Remember to call CLEAR Restoration at 225-245-3575 to inspect your home for any mold or water damage. Learn the difference between flood vs. water damage, don't put yourself at risk, alleviate any damage if possible, and call CLEAR Restoration to get your home back to normal.