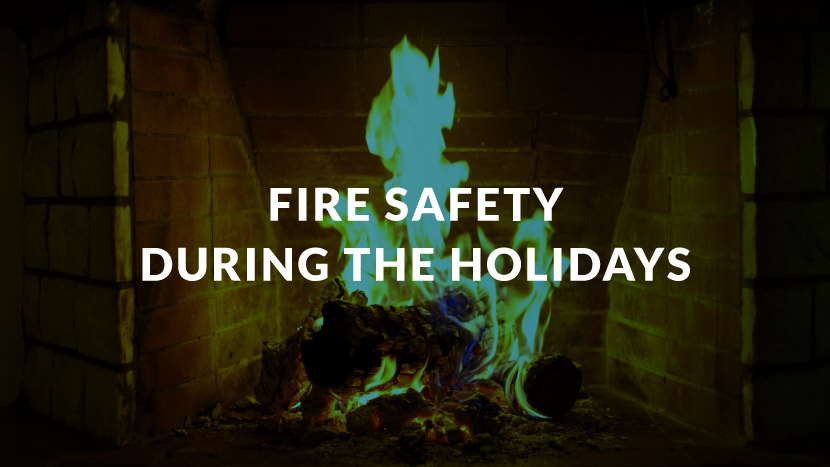 Keep the Holiday Season Safe with These Holiday Fire Safety Tips
The holiday season brings many opportunities to get lost in the hustle and bustle of holiday traditions. It's easy to forget the safety precautions associated with holiday lighting, decorations, and cooking. Because of the extra fire hazards in your home around the holidays, it's important that you keep these precautions in mind. Remembering holiday fire safety is crucial to make sure you have a safe and happy holiday season.
Christmas Tree Fire Safety
If you choose to buy a live Christmas tree, make sure you purchase a tree with fresh, green needles. If the needles are dry or falling off, the tree presents a larger fire risk. A dry tree will act as kindling if a fire breaks out in your home, so make sure your tree is nice and freshly cut. Water your tree every day to keep it from drying out. If you opt for an artificial tree, buy one that is labeled "flame-retardant."
When it comes to Christmas tree stands, use a stand that is sturdy and designed not to tip over. Also, make sure you place the tree at least three feet away from any source of heat in your home. You want your tree far away from fireplaces, stoves, and heater vents.
Buy the right kind of lights for your tree. Some lights are designed to be used indoors or outdoors, so check the manufacturer's instructions before buying lights. Throw away any strands of lights with frayed or broken cords, and always unplug lights before sleeping or leaving your home.
[Related: Holiday Lighting Safety]
Fire Safety for Menorahs and Kinaras
When celebrating Hanukkah or Kwanzaa, candles are a major part of holiday traditions. Keep flammable materials three feet away from menorahs and kinaras. Place your menorah or kinara on a non-flammable surface that can catch melting candle wax. If you want to avoid open flames altogether, you can buy an electric menorah or kinara.
Keep Fireplaces Safe
When you light your fireplace to keep warm on a chilly winter night, make sure you have a fireplace screen. A screen will keep embers and logs from escaping the fireplace and sparking a fire in your home. Keep any flammable materials like curtains, rugs, and wrapping paper at least three feet away from the flames. When you leave the house or go to bed, make sure that all the embers have gone out before you leave it unattended.
Fire Safety In the Kitchen
Be sure to take precautions when you're cooking this holiday season to avoid kitchen fires. Remember to keep children and flammable materials such as grocery bags, oven mitts, and kitchen towels away from the stove and oven. Don't leave your oven or stove unattended while you're cooking, and keep your kitchen counters clean as you cook so you don't accidentally burn cooking materials on the stove.
If grease spills, clean it up as soon as possible to avoid a grease fire. Always smother a grease fire – pouring water on a grease fire will fuel the flames. If you're deep-frying food for your family, keep the fryer away from anything flammable. Make sure the food you're frying is fully thawed to avoid a grease fire.
If you have questions about how to keep your home safe from fire-related accidents this holiday season, give CLEAR Restoration a call at 225-245-3575. Our expert team is ready to take care of any smoke damage restoration services you might need if you have a fire-related accident.
[Read More Tips: Red Cross Holiday Fire Safety Tips]