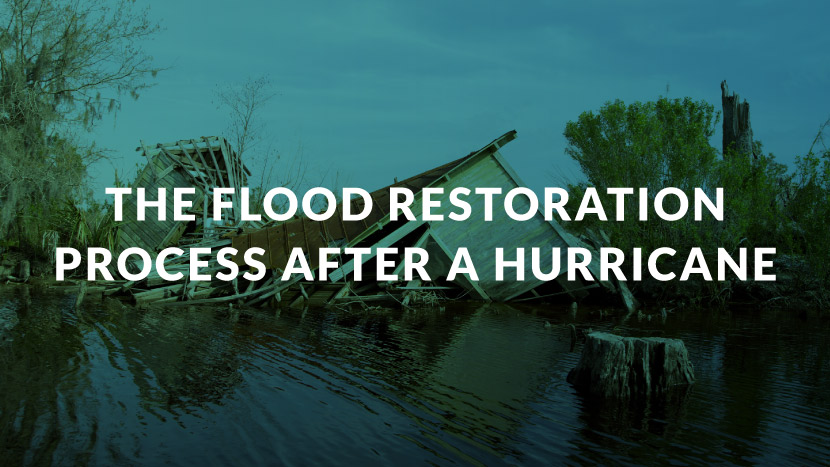 The Flood Restoration Process After a Hurricane
During hurricane season in Louisiana, it is crucial to know what to do if your home were to flood or sustain water damage during a storm. During hurricanes, outside water can invade your home and damage your structure and belongings. Such a devastating situation presents anxiety and frustration, and we at CLEAR Restoration know the personal toll flooding can take on you and your family.
If your home floods or sustains water damage during a hurricane, the CLEAR Restoration team will arrive quickly and ready to take steps to get your home and your life back to normal as soon as possible. These are the steps you will go through after calling a water damage restoration company:
[Related: Storm Damage Restoration Services in Baton Rouge]
Inspection
It is important to call a professional team as soon as you can to start the restoration process. Unchecked water damage can be toxic to your health and can depreciate the value of your home.
[Related: Health Concerns After a Flood]
After you call a restoration company, a team will evaluate the water damage in your home. The restoration crew will inspect your property and use professional moisture-detecting and thermal-imaging equipment to determine the extent of water damage. This will also determine which components are salvageable and which are not. Then, the crew determines the next steps to restore your home.
Demolition, Drying, and Disinfection
Once the restoration plans have been laid out, the work begins. Our restoration team will use specialized water-extraction equipment to remove remaining water from your home.
CLEAR Restoration ensures that there is no unnecessary removal of your home's structural components and contents with enhanced drying techniques. However, there will be items that cannot be saved, and the restoration team, in conjunction with your insurance company, will determine which structural components and contents in your home are non-salvageable.
Unsalvageable structural components like drywall and porous flooring will be removed. We keep the demolition area as clean as possible, so the mess is contained to our working area only. We thoroughly check our drying progress on a daily basis to ensure the structural integrity of your home remains as intact as possible and to minimize secondary damage. We want you to feel safe throughout this process.
Repairs and Rebuilding
No matter the extent of the damage, the team at CLEAR Restoration is ready to restore any areas that necessitated demolition. As licensed general contractors, we are certified to take on larger repairs to your home, so you don't have the hassle of calling another vendor.
After a hurricane, handling flood and water damage is stressful. You must take immediate action and call an experienced flood restoration company like CLEAR Restoration. We offer 24/7 emergency storm damage restoration for critical situations. The sooner we begin the flood restoration process, the more chance your home has of returning to normal as quickly as possible. Please be sure to call CLEAR Restoration at (225) 245-3575 for all of your flood and water damage needs!