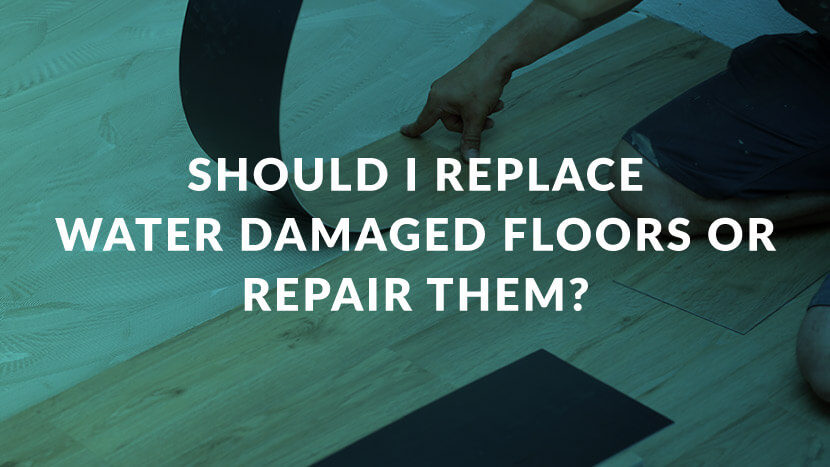 Should I Replace Water Damaged Floors or Repair Them?
Flooring is expensive, and if you have just experienced extreme water damage from a flood, roof leak, or pipe burst, you may wonder if you should replace or repair your water-damaged floors. Deciding to replace or repair water-damaged floors will depend on several factors because sometimes repairing water-damaged floors will not be possible.
CLEAR Restoration is an experienced water damage restoration company that focuses on saving and restoring your property using in-place drying techniques. If you need water damage restoration services in Baton Rouge, contact CLEAR Restoration today at 225-245-3575  for quick, safe, and cost-effective services.
Water Damaged Floors – The Basics
Whether you have hardwood floors or vinyl, any type of flooring can be damaged by water despite stating it's "water-proof." Generally speaking, water-proof flooring is great for small spills that get cleaned up quickly. However, when there's a leak or flood and a lot of water sits on your flooring for an extended period of time, chances are they will be damaged in some capacity because water seeps into the tiniest spaces.
If you do find water on your floors, take action to clean it up immediately. If it is clean water, you can take measures to clean it. However, if it is water from an unclean source, like a broken toilet or sewer line, we recommend you let water and sewage damage professionals handle it to reduce the risks of illness.
[Related: Do Not Avoid These Signs of Water Damage]
The Signs of Water-Damaged Flooring
If you have wood flooring, water damage may be extremely obvious, but that's not always the case when it comes to flooring. There are several signs that water has damaged your flooring.
Buckling – if your floors detach from the subfloor underneath, you may have water damage.
Crowning & Cupping – If the edges of the flooring curl up or the middle of some flooring creates a dome, you may be dealing with water-damaged floors.
Mold – if you see mold or mildew growing on your flooring, there's a very high chance you have water-damaged flooring, which may extend to the subfloor.
Soft Spots – if you walk over your flooring and feel it sink or it feels squishy, this may be a sign of water damage and even past water damage that has affected the stability of the subfloor.
Stains/Discoloration – if you see dark spots on your floor or other discolorations, it could be a sign of water damage. It might also let you know there is an active leak.
Warping – when damaged by water, flooring can act much like paint and bubble or peel, and this is a good indicator your flooring has experienced water damage.
[Related: The Difference Between Water Damage and Flood Damage]
Should You Replace or Repair Your Water-Damaged Floors?
Deciding whether to repair or replace your water-damaged flooring will come down to four main factors, which are:
The Extent of the Water Damage
The extent of water damage to your flooring will be a main factor in whether you repair or replace your floors. If you experienced a flood and your entire home was under water for 48 hours, chances are most of your home's materials will need to be replaced. Flooring that sits for more than 24 hours with water is susceptible to mold and may be warped beyond repair.
However, CLEAR Restoration specializes in water damage restoration and uses in-place drying techniques to save and restore your floors. While it still depends on the extent of damage and the other factors on whether you can repair your water-damaged floors, we don't tear out structures unless they are beyond repair. Our fast, effective, in-place-drying techniques save you up to 75 percent more than other methods.
Type of Water
There are three water categories:
clean water
grey water
black water
If your water damage comes from clean water (rainwater) or grey water, such as from a dishwasher, it is more likely you will be able to repair your water-damaged floors. Black water contains serious contaminants and comes from sewers or flooding. It poses more health risks to you. As it presents more concerns to your health, you might want to replace water-damaged floors to ensure your home is safe.
Cost
Typically speaking, replacing water-damaged floors will cost more than repairing water-damaged floors. It might come down to budget if your floors are eligible for either being replaced or repaired.
If insurance is involved, you may need to discuss costs with them.
Preference
While no one wants to experience a disaster in their home, some may look at it as an opportunity to switch out their old flooring with a new, updated look. Replacing water-damaged floors instead of repairing them could come down to your preference.
Restoring Your Water-Damaged Floors
If you're dealing with water-damaged floors, don't hesitate to call CLEAR Restoration. Our dedicated team restores your home with advanced drying techniques so you can focus on more important things in life. When water-damaged floors can't be repaired, we are well-equipped to replace your floors. Call us today at 225-245-3575 and get water damage restoration services for your house.