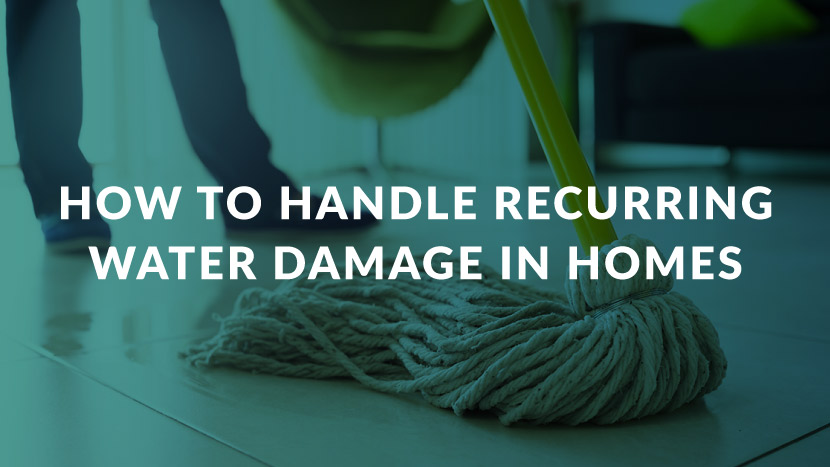 Do You Have Water Damage in Your Home? Here's How to Handle It.
"Not again," you mumble as you pull back your shower curtain to reveal a brown water stain and fuzzy growth near your bathtub. This is not an unfamiliar blemish. This is a blemish that rears its moldy head over and over again.
You think about how many times you've attempted to seal up possible leak sources and how worried you are about the health risks water damage can bring. You're ready to finish this once and for all, but you aren't sure what to do next. You're not alone – CLEAR Restoration is here to provide you with the next steps when it comes to dealing with water damage in your home.
Take Immediate Action
Before you clean up any excess water, be sure to take a picture of the damages for your insurance. Then, you can mop it up, but if water seeped under floors or flooded a large area, you're going to need to contact a professional to repair the damage and prevent further leakages. Continuous water leakage causes sagging and deterioration, and water leaking onto wood floors or walls causes the wood to swell, warp, and rot.
[Related: Water Damage Restoration FAQs]
Fix it Yourself, or Call a Professional?
Unfortunately, when it comes to water damage, if its more than just a few drops then it's best to call in the professionals. Water finds its way behind walls, pooling up and creating swell that eventually leads to rot. It pools under floors and serves as fuel for mold and mildew. A professional can identify additional damage the water leak has caused and create a remediation plan to eliminate any mold and the source of the water damage.
If the water damage is the result of a sewage backup, it is an immediate and serious health hazard, and you should call a water damage restoration company immediately. Luckily, CLEAR Restoration offers emergency services 24 hours a day, seven days a week so that you can remove the health hazard immediately.
Appliances prone to cause water damage in a home include:
Water Heaters
Toilets
Freezers and Refrigerators
Sinks and Showers
Washing Machines
If any of the above present signs of water damage, it is time to call a professional.
[Related: Why You Shouldn't Wait to Call Your Water Damage Restoration Company]
Who Do You Call?
Finding a water damage restoration company to mitigate the damage to your property is crucial to making sure your home and health are secure. CLEAR Restoration is a licensed and certified company in Baton Rouge that you can trust to work with you to repair your home.
CLEAR Restoration's water damage cleanup and drying specialists are certified by the Institute of Inspection Cleaning and Restoration Certification and the Louisiana State Licensing Board for Contractors. We have the expertise and equipment to ensure that the damage is tended to cost-effectively, and we communicate with your insurance company to ensure that filing a claim is as hassle-free as possible.
If you are constantly finding water damage in your home, it is important to find a water damage restoration company that can dissolve the problem and prevent further issues. CLEAR Restoration is equipped to do just that. After you take pictures of the damage and contain the water as best you can, your next move is to call CLEAR Restoration. We'll do whatever we can to get your home looking and functioning as good as new.