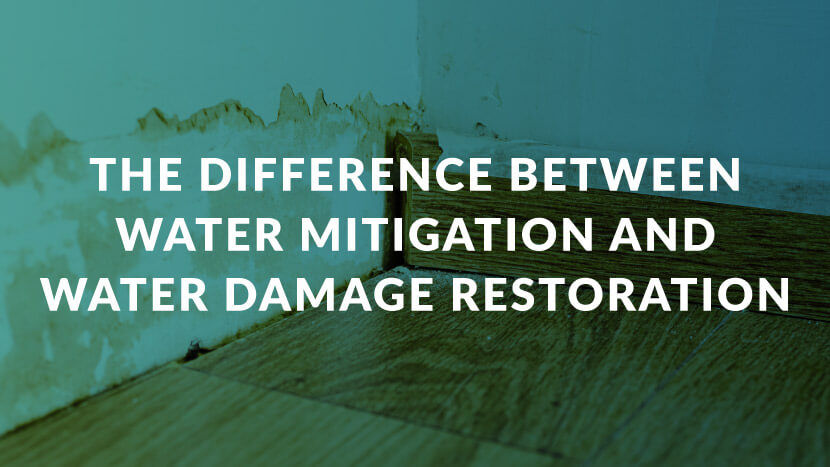 The Difference Between Water Mitigation and Water Damage Restoration
Water damage restoration and water mitigation are often used interchangeably, but they are separate processes, and both are important to keep your property safe.
CLEAR Restoration is a water damage restoration company that serves Baton Rouge and the surrounding areas. With years of experience restoring commercial and residential property, we can restore your property to a safe state. Call us at 225-245-3575 for water damage restoration.
Water Damage Mitigation
Water damage mitigation is taking action to prevent water damage from occurring to your property. This can be as simple as cleaning your gutters to repairing your foundation before water leaks into your house. Any action that prevents new water damage or prevents current water damage from worsening would be considered water damage mitigation.
[Related: How to Protect Your Roof from Water Damage]
Water Damage Restoration
Water damage restoration, however, is the process of repairing water damage that has already occurred in your commercial or residential space. Whether you have water damage from a leaky roof or a flood, CLEAR Restoration restores your property back to pre-loss condition with specialized techniques.
[Related: Water Damage Restoration FAQs]
When Water Damage Mitigation Doesn't Work
Water mitigation is extremely important to prevent your property from being damaged by unexpected events, but not everything can be prevented. Sometimes damage does occur, and in those instances, you will need water damage restoration services.
It can be stressful dealing with water damage, but your property can be restored to pre-loss condition with water damage restoration. At CLEAR Restoration, we follow a specific process to ensure your property is restored. We hold the Institute of Inspection Cleaning and Restoration Certification, and are OSHA certified, so you know we restore your property correctly.
[Related: Why You Shouldn't Wait to Call Your Water Damage Restoration Company]
The Water Damage Restoration Process
Inspection
Our team comes to your property and inspects the damage. It is important you let professionals assess your property as water damage can come with toxins and can make structures unsafe. We'll use moisture-detecting and thermal imaging equipment to determine the damage.
Demolition
This step is not always necessary, but when you have structural components that are not salvageable, we will remove them to ensure the structural integrity of your home. Materials could include flooring, drywall, studs, and more.
Drying and Disinfection
Next, we will extract water from your property using specialized equipment. Drying and disinfection is crucial to keep you safe and prevent mold from growing in your property. We ensure your home is dry, clean, and safe during this step.
Repairs
Lastly, as licensed contractors, we can repair and rebuild any necessary areas that were required to be removed during the demolition process. This step ensures your home or business is restored to pre-loss condition with new flooring, drywall, and any other material that needs to be replaced.
Call CLEAR Restoration for Water Damage Restoration
Water damage restoration and water mitigation are both important steps to keeping your property safe. When you need restoration services, don't hesitate to call CLEAR Restoration at 225-245-3575 and check out our other articles for water mitigation tips. We'll help you get back to what's important with efficient and safe water damage restoration services.