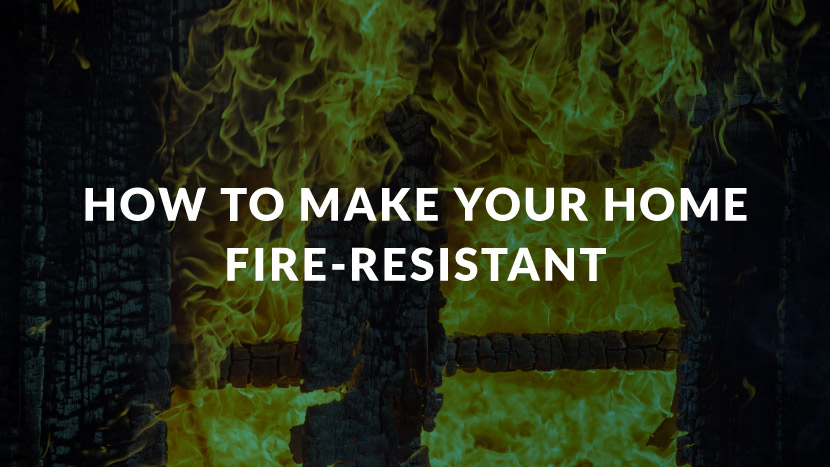 Steps You Can Take to Make the Outside of Your Home Fire-Resistant
With spring approaching, backyard barbecues will be in full swing. When you're flipping burgers on the grill, the last thing you want to worry about is the embers getting out of control and starting a fire that could damage your home. Fire-proofing your home and its perimeter is crucial to decrease the likelihood of your outdoor dinner turning into a disaster. Most of these preventative measures don't cost a dime, so there's no reason not to take all the steps you can to fire-proof your home.
If you do experience a house fire, call the fire damage restoration experts at CLEAR Restoration in Baton Rouge. From minor smoke damage to major structural repairs, we're ready to restore your home after a fire.
[Related: Outdoor Grilling Fire Safety Tips]
Fireproof Your Yard
When it comes to preventing fires that originate outside, the first place you should focus on is your yard. In the spring and fall, you'll notice more dead weeds and flowers in your landscaping. Dead plants are highly flammable, so you should take care to remove them on a routine basis.
Fire-proofing your home looks different depending on where you live. In Louisiana, pine trees and the needles that fall from them present a fire hazard because they easily act as kindling. If there are pine trees around your home, make sure that there aren't thick piles of pine needles in the grass that could easily catch fire. The same goes for any leaves that your trees shed.
In dry summers and winters, your lawn will dry out, so you can fire-proof your home by keeping the grass cut short and watering it regularly.
Move Your Lawnmower and Fuel
If you're planning on cooking outside, fire-proof your home by making sure your lawnmower and fuel canisters are at least 30 feet away from the grill. Ideally, you should store them in a shed away from your home or in a garage if you don't have a detached shed. If they catch on fire, they could explode and cause more damage to your house or guests.
If you don't have a spot to store them, move the mower and fuel to the opposite side of the house from where you're cooking. It's another step, but these small actions toward fire-proofing your home can save your family and guests from a dangerous fire.
Clean Your Gutters
Whether you're grilling on a pit or hosting a bonfire, embers can travel as far as a mile before going out. If these embers find their way into your gutters that are full of dry leaves and debris, they can catch on fire quickly and cause major damage.
Even if your roof is made of fire-resistant materials, gutter fires pose a risk. Make sure to clean out your gutters regularly to fire-proof your home, especially in the spring and fall.
[Related: Fire Safety During the Holidays]
Ensure Fire Truck Accessibility
An important step to fire-proof your home is making sure fire trucks and other emergency vehicles can access your home in case of an emergency. A fire truck will need to be close to your home to extinguish a fire. So when you're having people over, instruct them to leave a spot open in the driveway. If your home is gated, leave access open so emergency vehicles can quickly gain entry.
Call CLEAR Restoration for Fire Damage Restoration
Fire is notoriously unpredictable, so you might experience a house fire even if you've taken steps toward fire-proofing your home. A house fire is traumatic, and it can make you feel like you'll never get back to normal, but a fire damage restoration company like CLEAR Restoration is ready to alleviate your concerns and quickly restore your home.
Our experienced team of fire damage restoration experts has tackled projects big and small, so whether you have light soot damage or substantial structural damage, CLEAR Restoration can help you recover after a house fire.
[Related: Fire Restoration FAQs]
Call CLEAR Restoration at 225-245-3575 day or night for emergency services and fire damage restoration services.