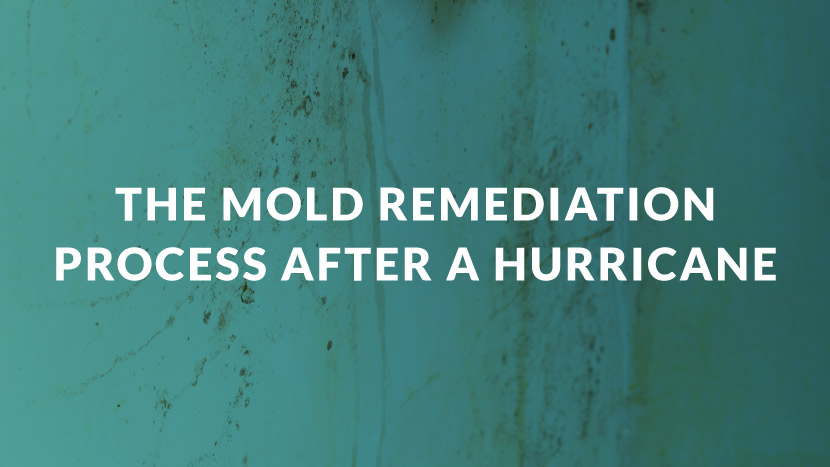 The Mold Remediation Process After a Hurricane
During a hurricane or tropical storm, the likelihood of your home sustaining water damage is high. When your home sustains water damage, mold growth is highly likely and can cause potential health issues for your family. Therefore, you should know what to expect if you need mold remediation after a storm. Here's how the post-hurricane mold remediation process takes place, from detection to completion.
[Related: How Mold Affects Air Quality]
Mold Inspection
If you suspect the presence of mold in your home after a storm, you need to seek out a reputable mold inspection company. The right company can tell you the extent of the mold growth and even what type of mold is growing in your home.
In Louisiana, the company that performs mold inspection cannot perform mold remediation as well, as there is a conflict of interest. Reputable mold remediation companies will insist on a third-party mold inspection. After the mold inspection company confirms mold growth, you'll need to call a mold remediation company like CLEAR Restoration to remove the mold from your home safely.
[Related: How Mold Inspections Work]
Mold Remediation
After receiving documentation that your property needs mold remediation, CLEAR Restoration formulates a remediation plan. Post-hurricane mold remediation may include containment, removal, disinfection, and demolition of the area depending on the extent of the damage.
At CLEAR Restoration, our main priority is the health and safety of your family and our staff – that's why our team is licensed and trained in best practices for mold removal. We do our best to ensure that the mold outbreak is contained to the already-affected area so that no mold spores wind up in other parts of your home.
Reconstruction
Once our team has removed mold outbreaks, there may be some repairs or reconstruction that need to take place in your home. The level of reconstruction necessary depends on the extent of the mold outbreak. No matter how big or small the repairs are, CLEAR Restoration can handle it. We are a Louisiana-licensed residential and commercial contractor, and we can take care of any necessary reconstruction.
CLEAR Restoration 24/7 Emergency Storm Damage Restoration
CLEAR Restoration is available and ready to handle mold remediation after a hurricane or storm. You can rely on our team of experts to arrive quickly and ready to take care of your issue. When it comes to post-hurricane mold remediation, trust the experts at CLEAR Restoration. We are IICRC certified and Louisiana licensed, and we are proud to offer emergency services. For all your mold remediation needs, call CLEAR Restoration at 225-245-3575.
[Related: Storm Damage Restoration in Baton Rouge]
Read our other installment of our "After A Hurricane" series!
[Related: Part 1: Flood Restoration]