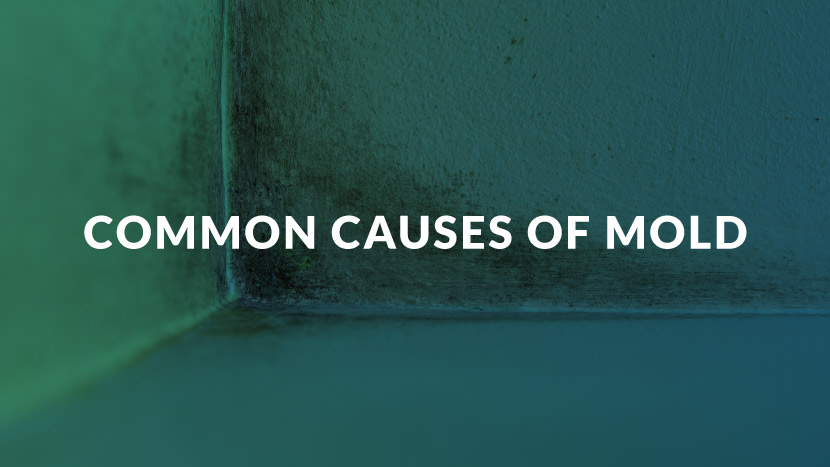 Causes of Mold and What You Can Do About It
Mold growth is irritating but inevitable when you live in Louisiana, so it's important to know what causes and encourages mold growth to mitigate the health concerns that come with it. Because mold spores are a fungus, a disinfectant can only go so far in your cleaning efforts. Mold emits mycotoxins that have harmful effects on humans, so it's crucial to understand which environmental factors encourage mold growth.
Prevention and remediation efforts can save your family health complications down the road, so be sure to have a mold remediation specialist top of mind in case you have an outbreak.
[Related: How to Prevent Mold in Your House]
Environmental Causes of Mold
When spaces in your house have all the necessary amenities for a mold hotel, spores can set up camp within 24 to 48 hours. The mold can spread to other parts of your house within a week.
Four main environmental factors that foster mold growth:
Warm temperature
Moisture
Low-light environment
Food source – wood, sheetrock, dust, fabric, and more
Mold cannot survive without moisture, so mold can colonize and spread quickly if your house is humid. This means that the causes of mold can range from a hot shower to a devastating flood.
[Related: The Mold Remediation Process After a Hurricane]
Mold feeds on organic material in the resources that make up your house, like wood and sheetrock. It can even find food sources in dust and dirt around the house and will use fabric like clothes, luggage, carpets, and more.
Mold can thrive in dark environments because sunlight is deadly to mold spores. Indoor lighting, however, does not have the same fatal effect because the spectrum of indoor light doesn't emit photons that kill mold. So, while mold is more likely to grow in entirely dark spaces, it can also grow in places well-lit by artificial lighting.
Places Mold is Likely to Grow
Based on the causes and conditions that support mold growth, here are several places you should be wary of mold growth:
Attics
Doorless closets
Laundry Rooms
Bathrooms
Kitchens
Exterior walls
HVAC units
And more
Keep a close eye on these spots in your house. Mold can grow anywhere, so keep in mind that while these are common places to find mold outbreaks, they are not the only places mold can thrive.
What You Can Do to Prevent Mold Growth
Mold prefers warm environments, so keep your home's temperature at or below 72 degrees to deter mold growth.
Decreasing humidity in your home will also help prevent mold growth. To decrease the humidity in your home, keep your home's temperature at or below 72 degrees (your air conditioner dehumidifies the air as it cools) and consider investing in a dehumidifier if your live in a humid climate.  For a cheaper option, look into purchasing moisture absorbers that can draw moisture out of the air.
Low-lit areas and areas with poor air circulation help foster mold growth, so be mindful of mold growth in closets. Moisture also easily travels into doorless closets in your bathroom, making it the perfect place for mold to wreak havoc on your clothes or towels – especially after you turn the light off. Keep clothes separated and out of plastic containers. If possible, get a curtain to decrease the amount of moisture getting into the closet.
Also, ventilators are recommended in full bathrooms and should be run while and for at least twenty minutes after taking showers.  If your bathroom is not equipped with a ventilator, then make sure you keep your bathroom door (and bedroom door if the bathroom is accessed from within the bedroom) open after you shower, so your HVAC system can help dehumidify/ventilate the area.
[Related: How to Prevent Carpet Mold]
Hire a Mold Remediation Specialist to Handle Mold Outbreaks
To get rid of a mold outbreak, hiring a mold remediation specialist will be your best bet. Specialists are trained to find and eliminate the source of the outbreak. A mold remediation company like CLEAR Restoration is on call to visit your home and develop a plan to remove the mold. We determine the extent of the mold outbreak to figure out how much of your house is affected. Then we dry, clean, and disinfect moldy areas, leaving you with a healthy home.
[Related: Advantages of Using a Quality Mold Remediation Contractor]
Call CLEAR Restoration today at 225-245-3575 to get rid of your mold outbreak.